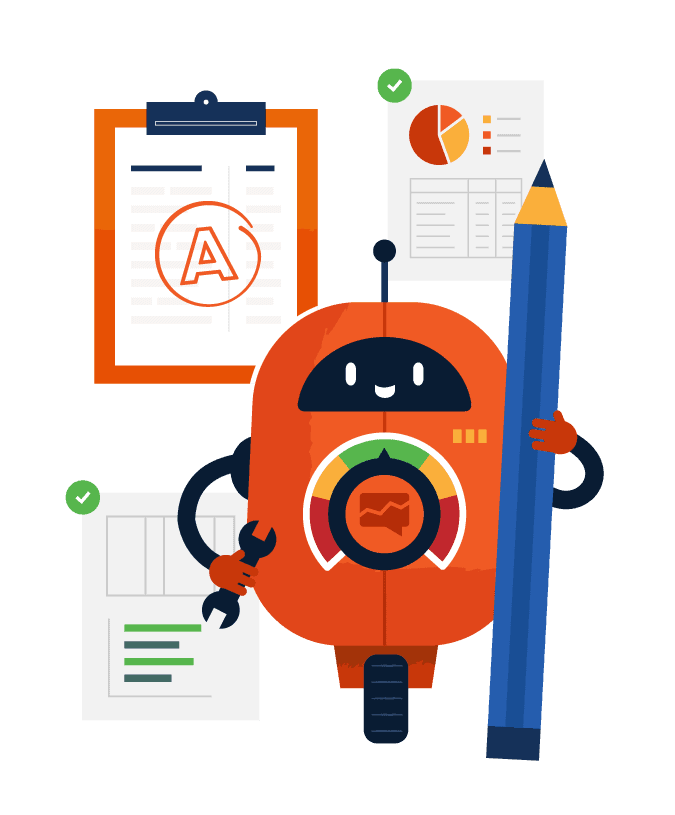 Agencies taking on a new project have to get a grip on exactly what the current situation is. Fortunately, you can do this fairly quickly with these 10 essential steps.
The purpose of this marketing audit checklist is not to fix anything or dive deep into a Google Analytics implementation. You'll use it to get an idea of what's working and what's not.
Let's jump right in and start auditing.
Admin Screen Audit
#1 – Are There Multiple Views Defined?
The first step is to dive into the current implementation of Google Analytics. We're going to check multiple areas of Google Analytics to see if the client is using some of the more advanced features.
First up is the views. Click the Admin link and then check out the "Views" dropdown. (We'll be using the Google's Merchandise Store demo account as a case study).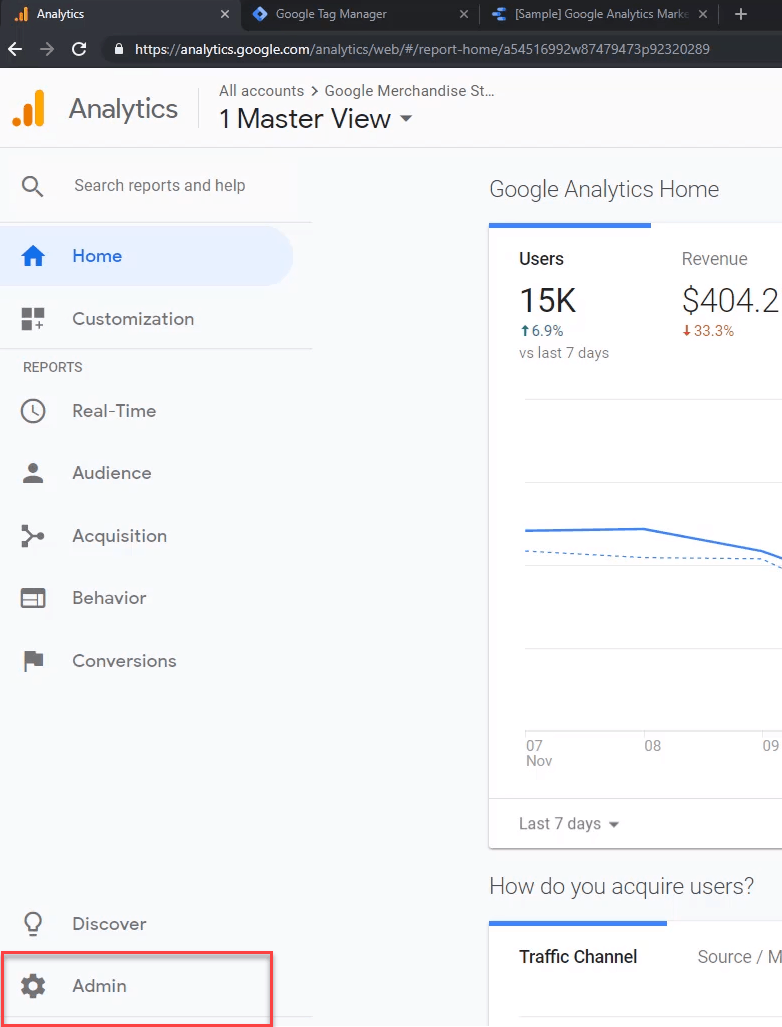 If you see multiple views, such as a test view, then there is a measure of sophistication present. New accounts start with the "All Web Site Data" view as the only view.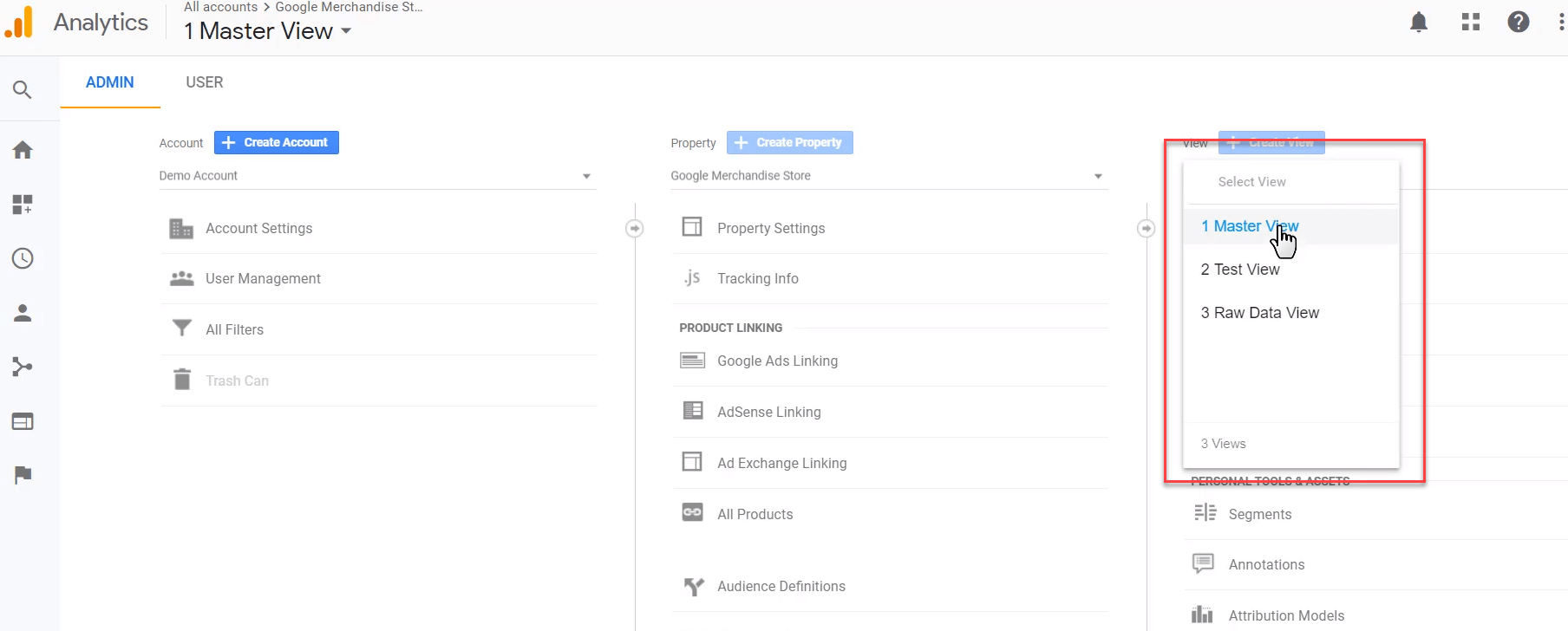 The above screenshot shows a test view, a master view, and a raw data view. These views show that the implementer understood the importance of multiple views of data. We're off to a good start.
#2 – Is the Client Using Filters?
Next up, take a look at the filters currently used by the client. Do they have any filters? How are the current ones defined?
The most important information to gather at this stage is what filters you can add to improve their analytics.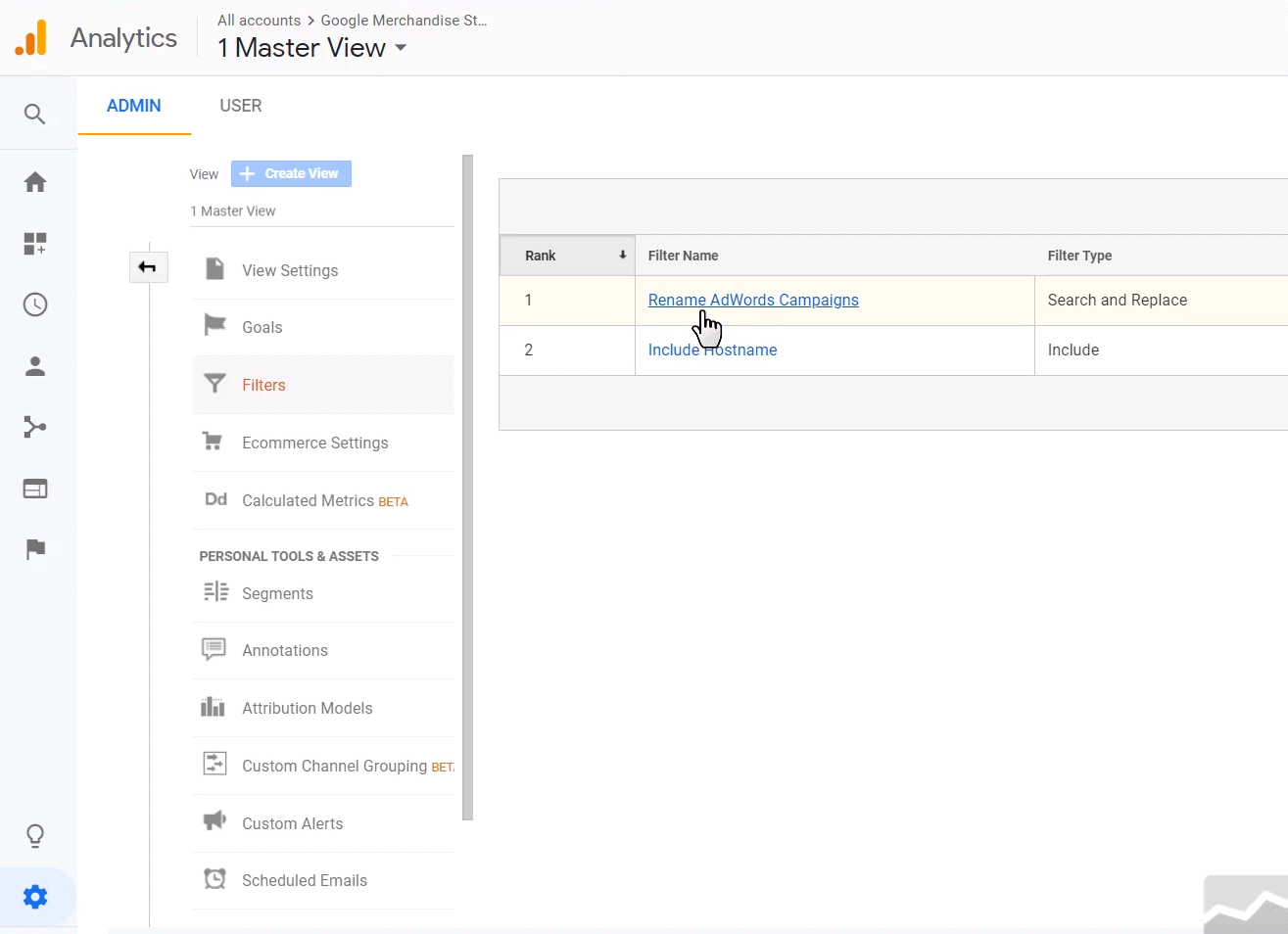 In our Google Merchandise Store example, there are a couple of useful filters present. But we could add three more to create better reports for the client.
A filter to combine Facebook traffic
Another to remove parameters from the URL for cleaner reports and easier searching
Finally, a lowercase filter to enforce consistency across traffic sources (great for UTM tracking)
#3 – What Google Analytics Goals Have Been Defined?
Google Analytics without goals is like a car without a speedometer. You won't know what action to take next if you can't see what you've already done and are doing.
Most companies start with destination goals. They're easy to set up and give you a solid starting point. However, event goals can give you more flexibility and insight on user behavior. Use Google Tag Manager to create event goals.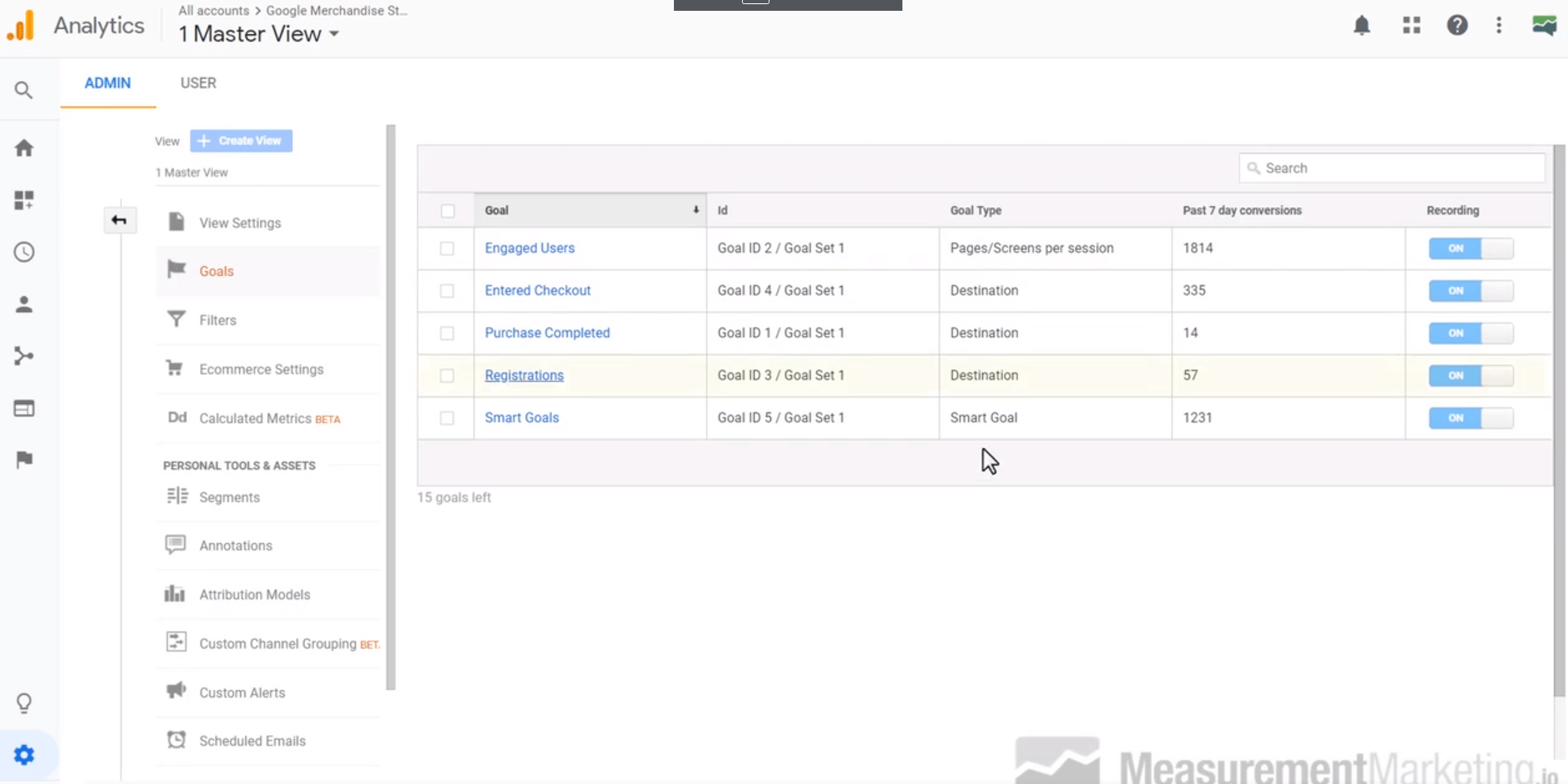 #4 – Selling Products? Turn On E-Commerce
This is a simple check but a critical one. If your new client is selling products online (physical or digital), then e-commerce has to be turned on so you can tie revenue back to your traffic sources.
Here is the location on the Admin screen.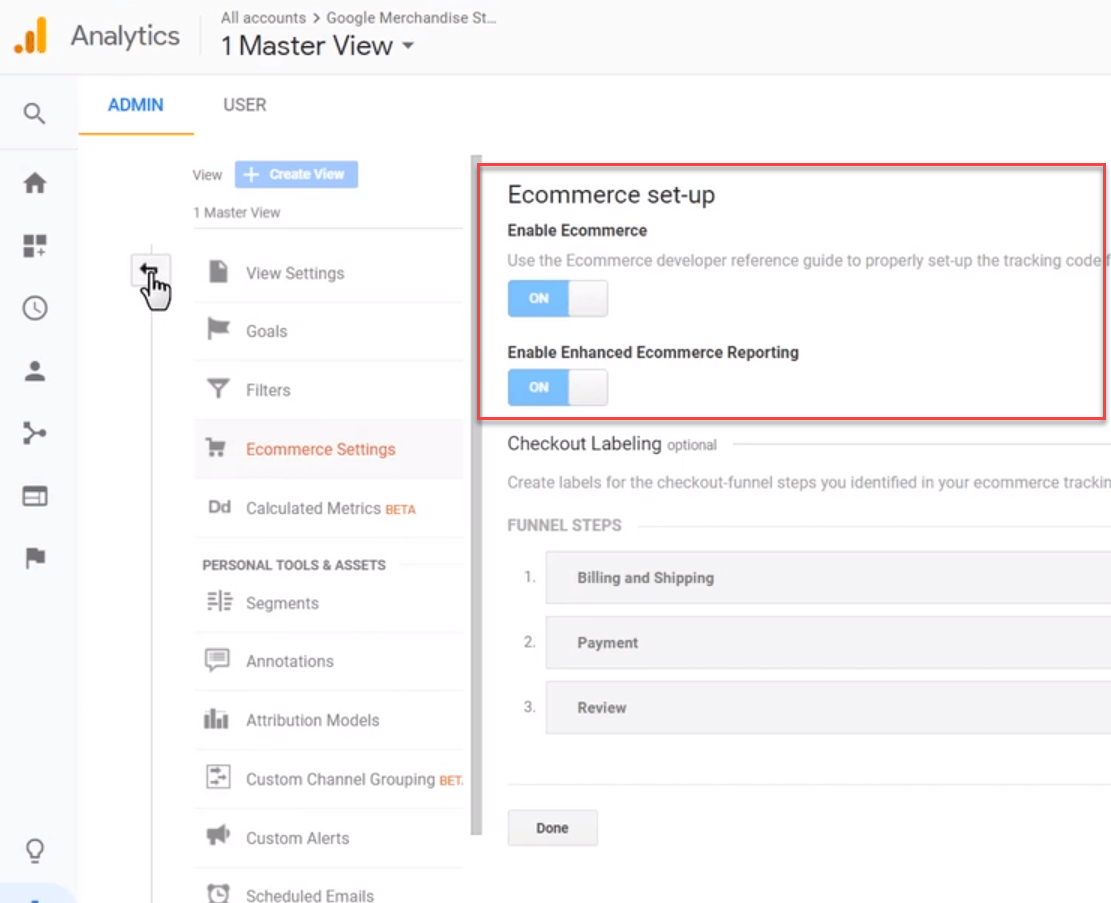 We're not changing anything yet. But be sure to make a note of whether or not E-commerce and Enhanced E-commerce are currently turned on.
#5 – Is Cross-Domain Tracking Set Up Properly?
Our journey next takes us to the Property Settings section of the Admin screen. We're not diving deep into all of the property settings in this quick audit. We're looking only at one attribute: the Referral Exclusion List.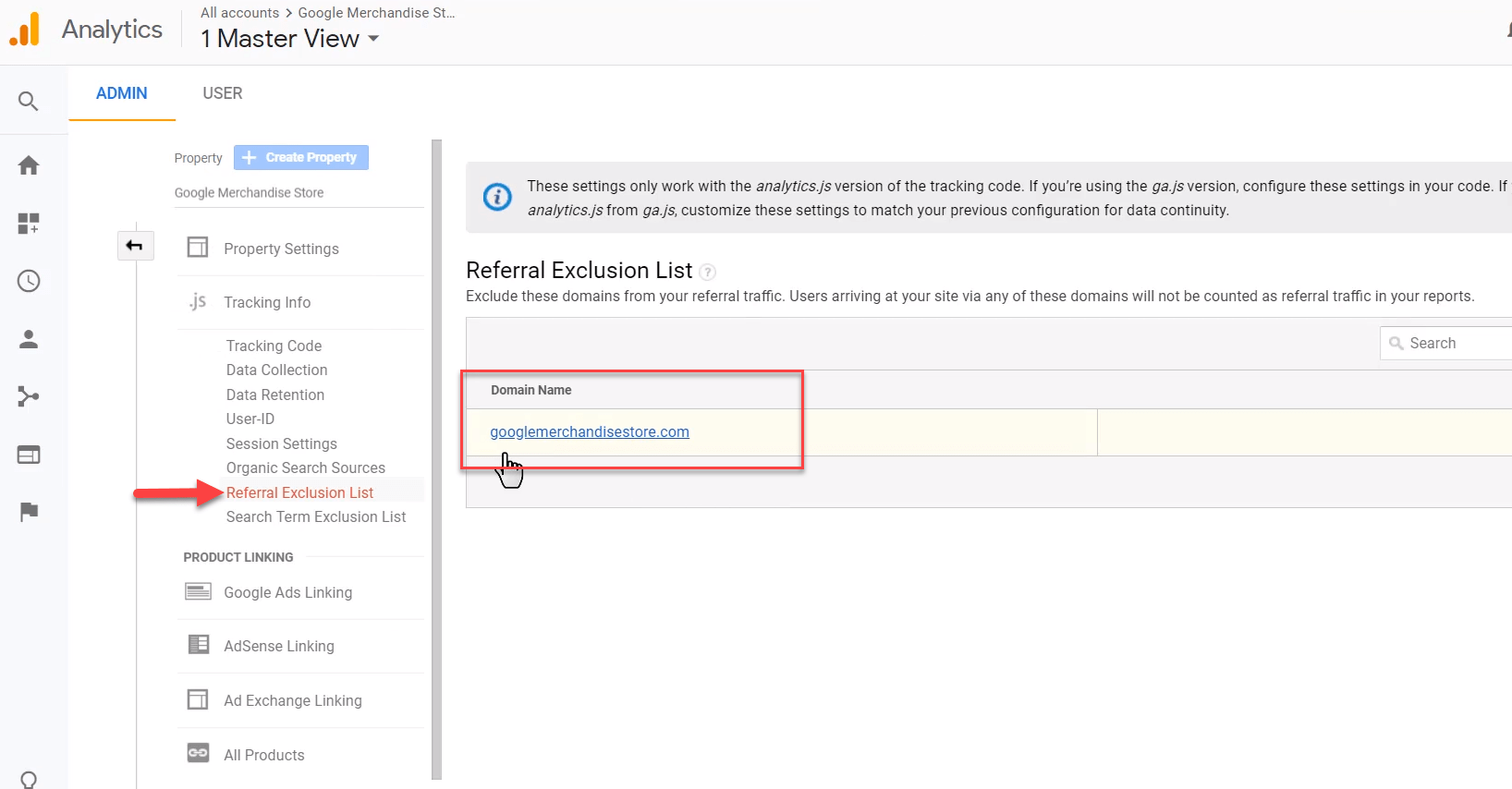 The Referral Exclusion List you define cross-domain tracking. For example, our users move from measurementmarketing.io to Infusionsoft when purchasing a product. After the purchase is complete, they are sent back to measurementmarketing.io for the thank you page.
Adding a domain to your referral exclusion list excludes it from referral traffic. Users coming from those addresses won't count as referral traffic on your reports. Setting this up correctly leads to a cleaner and more accurate report.
(NOTE: Need help with setting up your Google Analytics? Get a copy of the Google Analytics Report Card as part of your Free Toolbox Membership!)

Audit Existing Google Analytics Reports
Our measurement marketing audit takes a turn at this point. Once the settings are reviewed, take a look at what the reports look like right now. Are they giving you a useful truth?
#6 – Is the Product Performance Report Telling You Profitable Traffic Sources?
The first report we'll check on is the Product Performance report under Conversions -> Ecommerce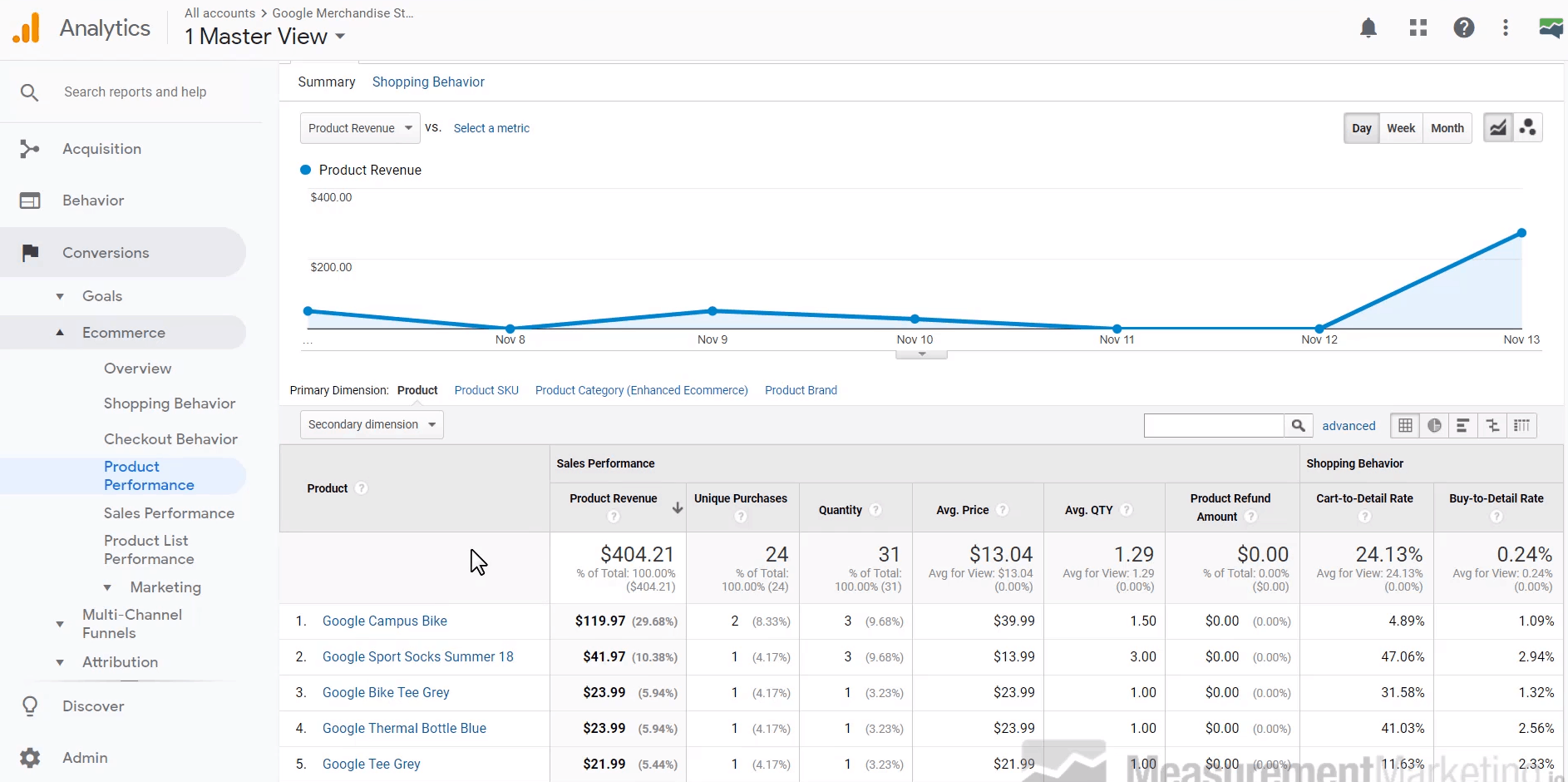 Next, add the Source/Medium dimension. Find out what traffic sources your new client is tracking. You don't care at this point what they are. The purpose is to see if the client has tagged their traffic so they know how they are generating revenue.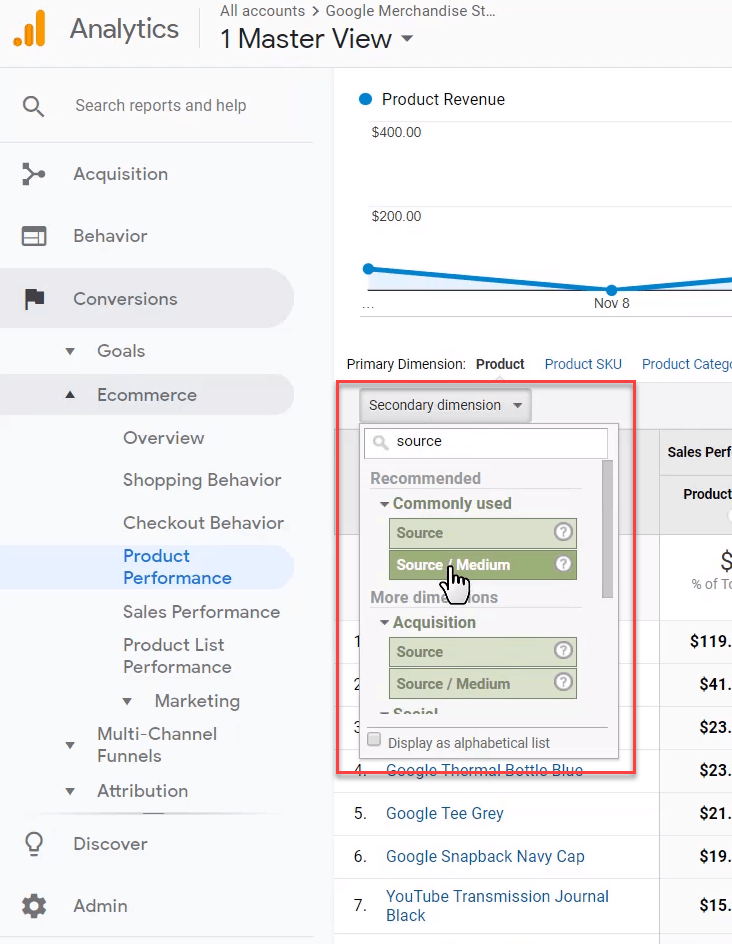 Look for existing naming conventions. If there is only one traffic source or a couple, there may be cross-domain tracking issues that require a new attribution strategy.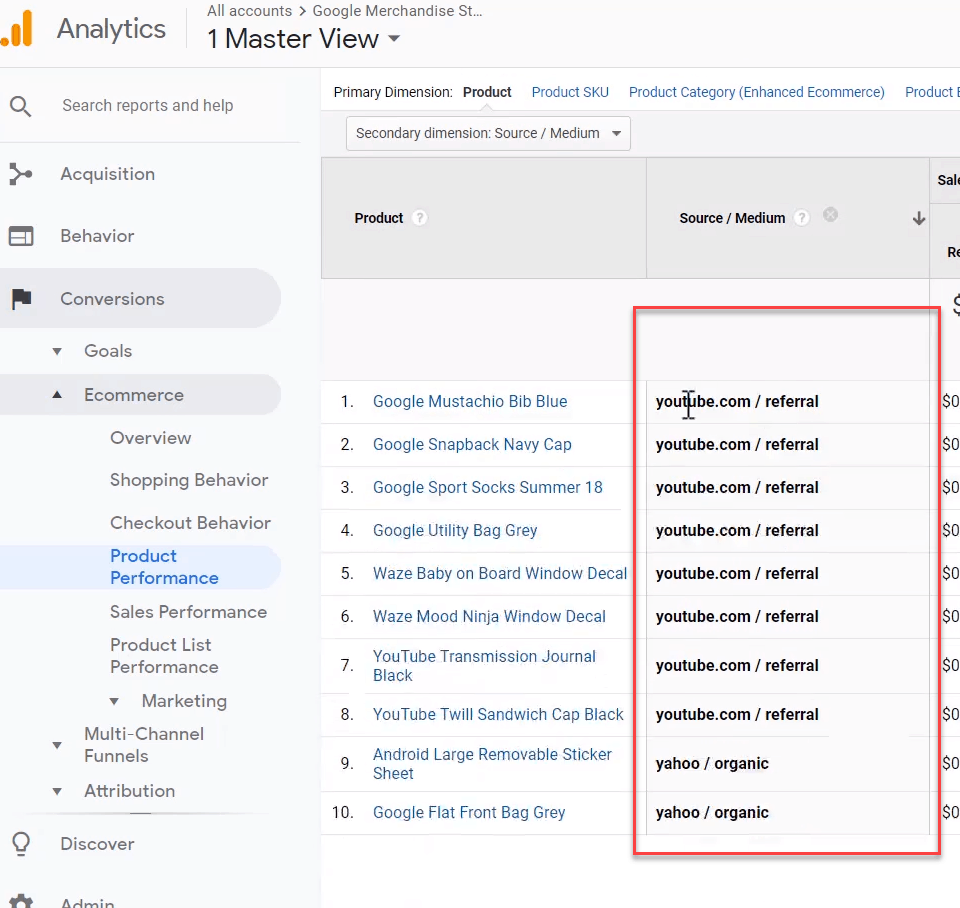 #7 – Check the All Pages Report for Opportunities for Cleaner Data
The All Pages report shows you how Google Analytics is storing tracked pages. Look for opportunities to make the data clearer or cleaner.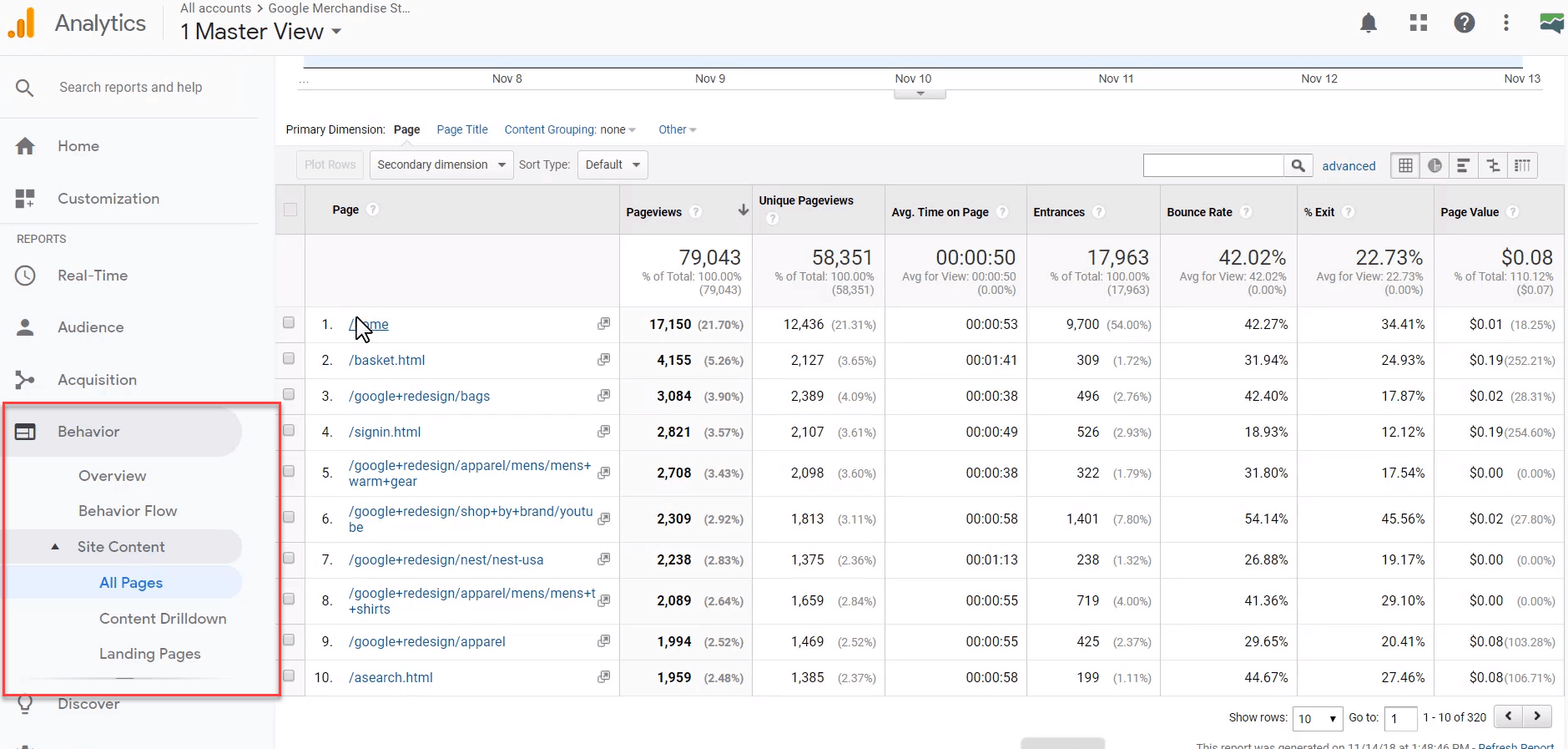 In the above example, there is an opportunity to add a filter to show the domain name of the page for more accurate tracking.
Next, take a quick scan of the numbers like the bounce rate. Do they make sense according to what you'd expect for certain pages? If not, there may be data collection and tagging errors.
#8 – Are the UTMs Set up Correctly?
The final report you should check is the Source/Medium report. The goal is to find out how the client is tagging their traffic. Are they using UTMs correctly? You'll find the Source/Medium report in Acquisition -> All Traffic -> Source/Medium.
Another report to check for proper UTM setup is the All Campaign report. Check out the picture below to find out where to find it.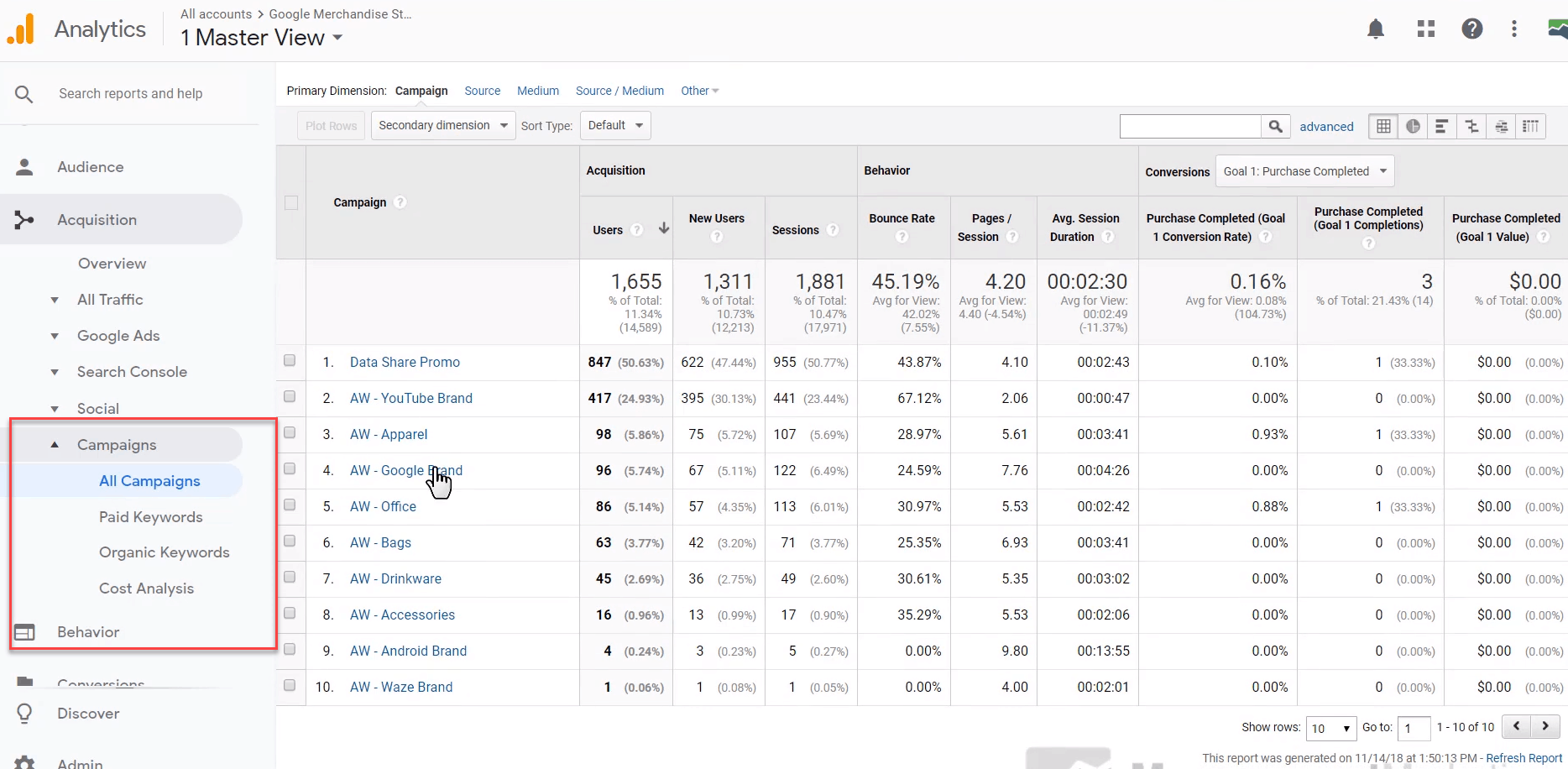 The utm_campaign parameter should be your top-level organization container. A common mistake is splintering campaigns by creating too many of them. A more organized campaign structure makes reporting much easier.
PRO TIP: Create a campaign for each of the major products you sell. You should only have a handful of campaigns. This keeps your reporting tight and your answers clear.
#9 – Review Google Tag Manager
Review Google Tag Manager to gauge the level of sophistication. How many tags does your client have in their container? How many containers do they have? In general, is your client an advanced Google Tag Manager user?
#10 – Review Google Data Studio Reports
If the client has Google Data Studio reports, take a look at them. Make sure the data provided in the report is useful. Sometimes information overload makes a report unusable. Use this time to make notes of possible improvements, especially if the underlying data in Google Analytics can be improved.
Finally, ask your client if they have reports that aren't used. Find out why they aren't useful to the client. You may find a quick win on a report you can tweak.
The Measurement Marketing Audit Checklist
Here are all of the steps in a quick checklist form you can reference later.
Are there multiple views defined?
Is the client using filters?
What Google Analytics goals have been defined?
Selling products? Turn on e-commerce
Is cross-domain tracking set up properly?
Is the product performance report telling you profitable traffic sources?
Check the All Pages report for opportunities for cleaner data
Are UTMs set up correctly (check Source/Medium and Campaigns)
Review Google Tag Manager
Review Google Data Studio Reports
Remember: Use this audit to get a general overview. You're not fixing anything at this stage, only recording what you see.
When it's time to build your measurement marketing plan, your audit results will come in handy. Use this audit, plus our Google Analytics Report Card to start your next project ahead of the game.
(NOTE: Need help with setting up your Google Analytics? Get a copy of the Google Analytics Report Card as part of your Free Toolbox Membership!)