The Most Complete
Measurement Training

and

Support System

for Marketers...
Get Exactly What You Need to Unlock the Power of Google Analytics, Google Tag Manager, and Dashboards…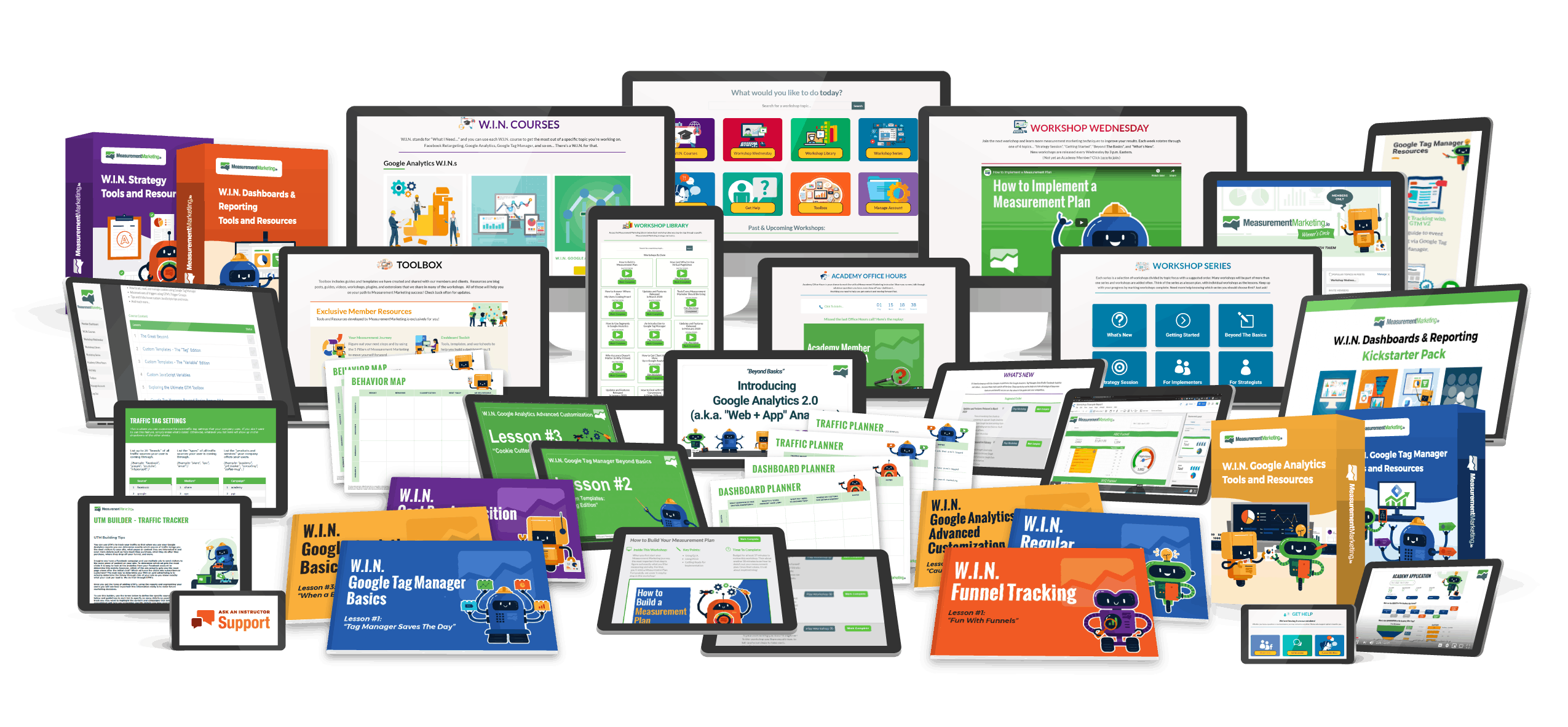 If you have some marketing experience you already know the importance of leveraging measurement to drive your marketing efforts…
But, marketing measurement can be complicated, overwhelming, and frustrating to say the least.
In addition, your clients are constantly pressuring you to deliver results and prove your ROI to the business (during good times and especially slow times).
Measurement Marketing is your key to gaining unshakable confidence in your marketing efforts and the results you can provide to your clients.
Introducing…
Measurement Marketing Academy
What's Included in Your Membership...
Get Exactly What You Need to Unlock the Power of Google Analytics, Google Tag Manager, Dashboards with "W.I.N. Courses"
Easy To Follow Training. Designed For Fast Implementation…
W.I.N.s give you everything you need to master the skills of Measurement Marketing, as well as building a measurement system customized to your (or your client's) business needs.
"W.I.N." stands for, "What I Need" – each course is designed to give you the exact steps to help you plan, design, and build your measurement system.
We've taken the complexity and technical overwhelm of each training so you can get what you need to master Google Analytics, Google Tag Manager, Dashboards, and Reporting.
Each W.I.N. course includes step-by-step instructions, over-the-shoulder walkthroughs, and resources to make the implementation process as painless as possible.
Courses are updated as technology, strategies and tactics evolve, so you're always kept up to date and on the cutting edge.
Here's some of what you will discover inside the W.I.N. Courses: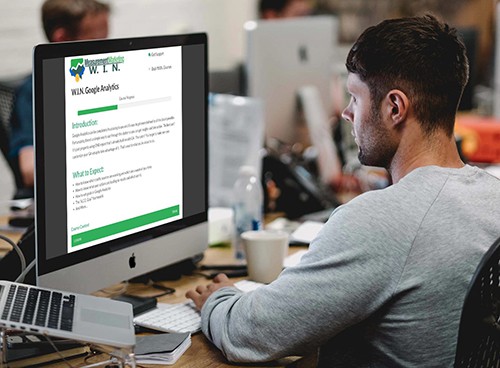 There are plenty of W.I.N. Courses to meet you at your current level of expertise and business sophistication (even if you are starting from scratch).
During your onboarding as a new member, your instructor will be available to give you (or your team) a customized curriculum tailored to your needs and business.
The "Roadmap" to Unlocking the Full Potential of Google Analytics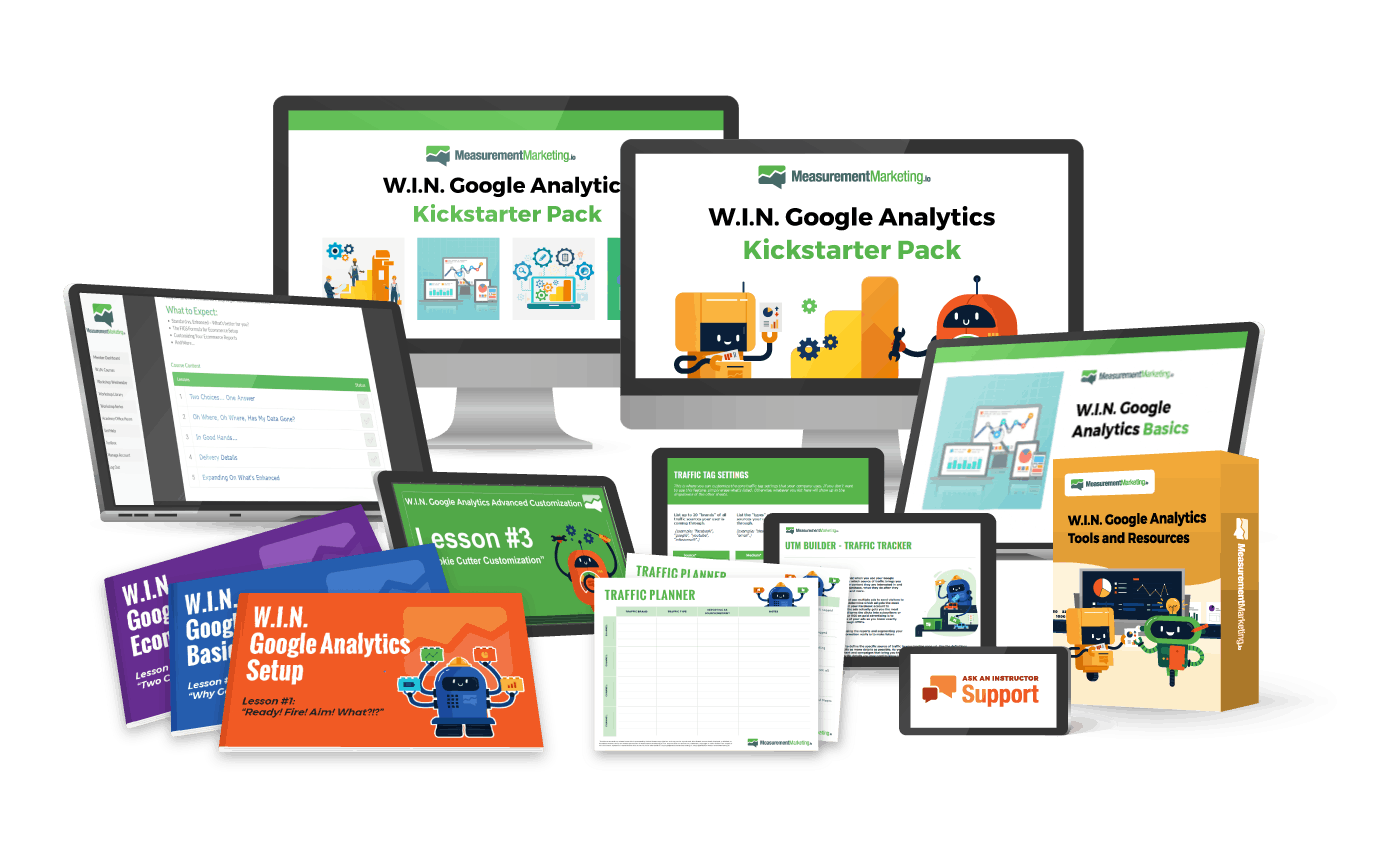 What you'll discover in the Google Analytics courses:
Supercharge Your Measurement and Marketing Results
with Google Tag Manager
What you'll discover in the Google Tag Manager courses: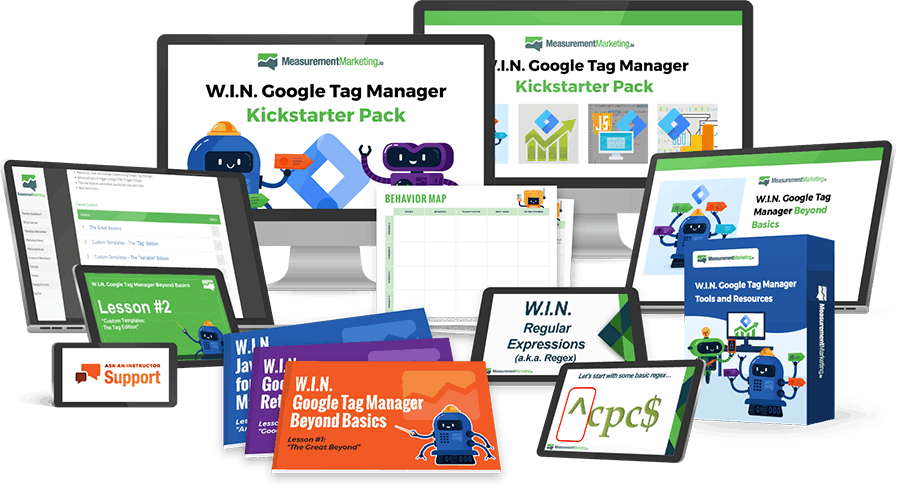 Create Dashboards & Reports to Guide You Towards
Actionable Insights and Fast Action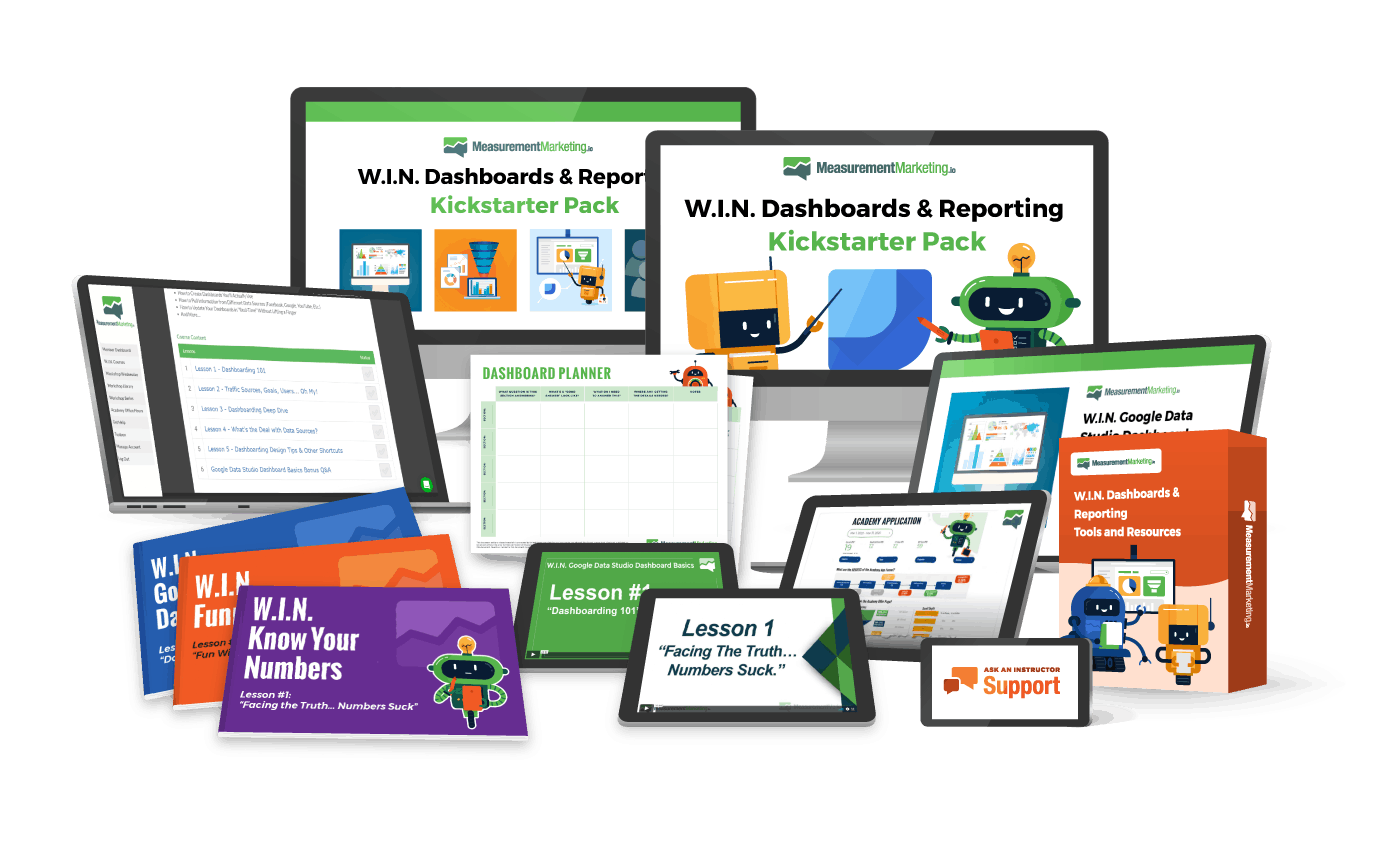 What you'll discover in the Dashboards & Reports courses:
Stay on the Cutting Edge and Ahead of Your Competition with a Measurement Strategy
What you'll discover in the Measurement Strategy courses: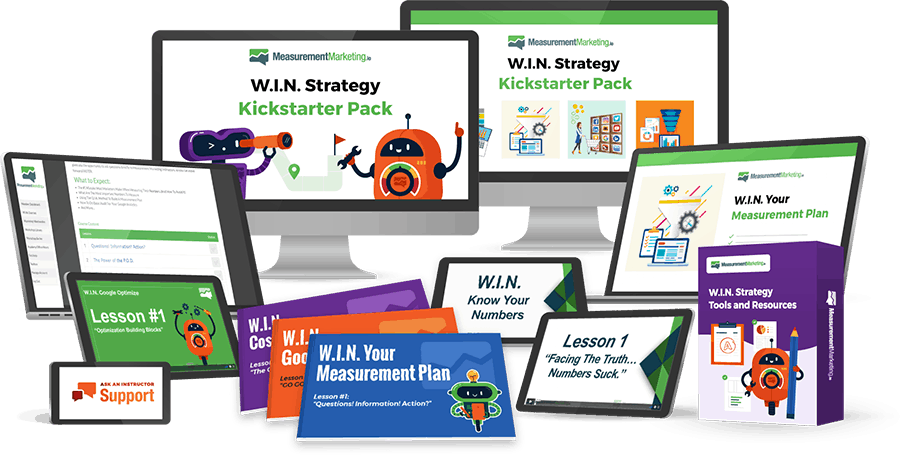 Unlimited Access to Measurement Marketing Instructors To Help You Get Unstuck and Implementing Fast...
It's common when learning new skills or building a new system to need a helping hand.
With "Ask An Instructor" Support…Your Measurement Marketing Instructor will be there to guide you.
You are not bound by sending just text to communicate your problems or ask questions…
In fact, the team encourages you to send screenshots and/or videos to explain your exact situation so you get the answers you need.

If you have questions like: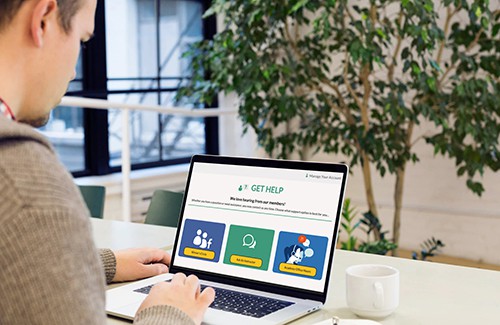 No problem! The "Ask an Instructor" Support System is just like having a Measurement Marketing consultant at your disposal. And, you'll get answers in hours not days.

Instructors will also do complimentary reviews on your account setups and provide custom curriculums for your specific needs.
(This level of support retails for $497/mo but as a Measurement Marketing Academy member, you get UNLIMITED "Ask An Instructor" support for FREE!)
Join the
Measurement Marketing Team

LIVE Every Week for… Measurement Marketing

Academy Office Hours!
(Included in Pro and Team Edition Only)
Every Wednesday, 3:30 pm Eastern, you can join the live Q&A session. You'll be able to share your screen and walk the instructor through your issue.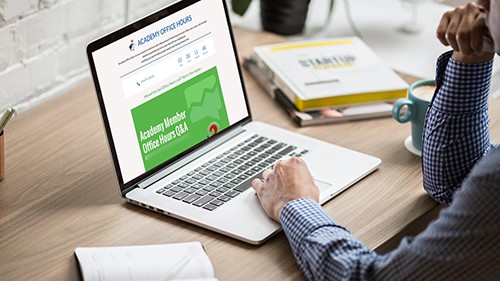 Or, you can listen in to learn how other Measurement Marketers are implementing, troubleshooting, and modifying their Measurement Systems.
The team and community are here to help you celebrate your breakthroughs and help you overcome any challenges.
Tap into the MeasurementMarketing.io community for the support you need…
Get Immediate Answers to Your Questions with the


On-demand Focused Workshops
(Included in Pro and Team Edition Only)
As an Academy member, you'll get access to our "Focused Workshop Library" with hundreds of On-Demand video workshops (with new ones added every week).
Think of the Focused Workshop library as the Measurement Marketing "Search Engine" for answers.
Whether you are looking for "Just in time learning, to dive deeper into a topic, technique…
Or maybe you're looking for an answer to a specific question about one of the tools in your measurement system.
All you need to do is type in your topic or keyword into the library search bar and you'll see a list of relevant workshops.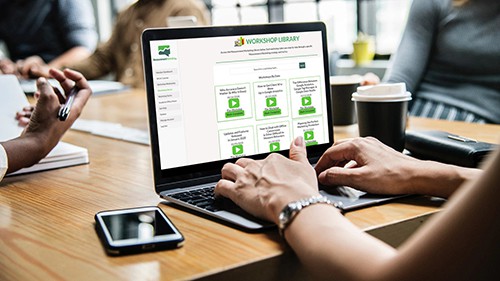 Just like W.I.N. Courses, Focused Workshops are updated as technology, techniques, tactics or strategies change…so you are never left behind and always on the cutting edge.
Unlimited access

to MeasurementMarketing.io tools, templates, guides, and resources…
"The Toolbox" includes toolkits, templates, guides, and resources designed to help you implement and execute easier and faster.
As an Academy member, in addition to the tools released to the public, you will also get private access to our "Members Only" tool section.
And you'll get access to new tools before anyone else.
Every tool is tested before being released so you can be sure it is proven and will help you in a real-world situation.
*If you need a tool to be modified just reach out to the team to get the tool modified to your needs.
Connect with the global

MeasurementMarketing.io

community in the

"Winner's Circle"

...
Stay informed as we release Measurement Marketing news and gain access to a super supportive Private Facebook Group filled with measurement marketing-focused marketers just like you.
You can ask questions and make connections. Our supportive community will help you tackle even the most complex challenges. Anytime you have a question just jump in the group and fire away.
Here's Everything You Get
With Measurement Marketing Academy...
Includes a 30-Day "Measurement Academy Test Run" + Price Lock Guarantee...
You are protected with a 30-Day "Measurement Marketing Academy Test Run" 100% Money-Back Guarantee.
You can try out any Starter, Pro, or Teams for 30 full days.
Dive into the W.I.N.s and Implement what you learn (if you get stuck you can reach out to your instructor)…
If the Academy doesn't meet your expectations or needs send us a message and you'll receive a prompt and courteous refund.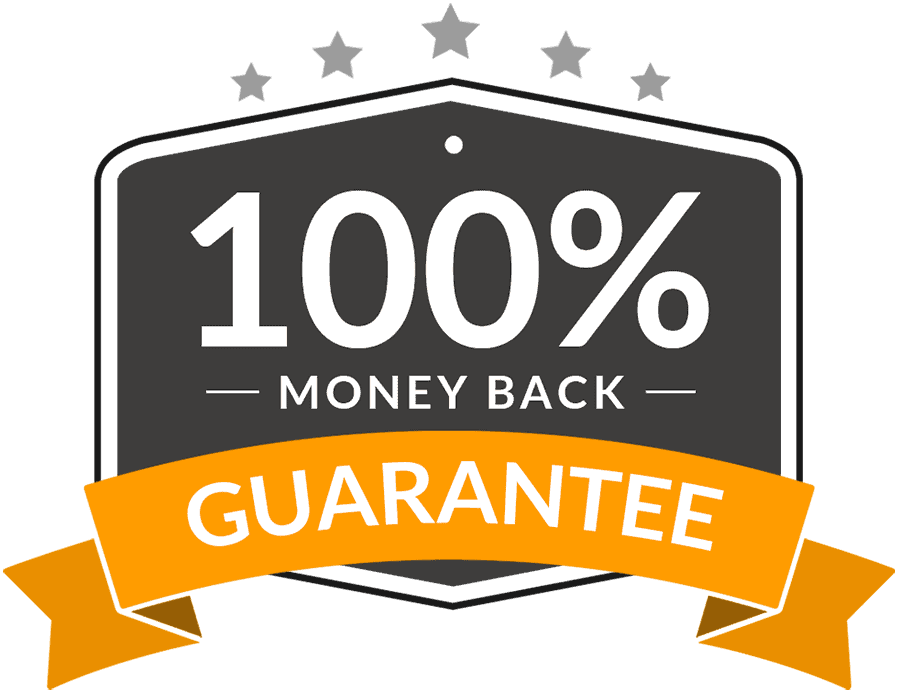 PRICE LOCK GUARANTEE: Your rates are Guaranteed to NEVER go up in price…
The MeasurementMarketing.io team is constantly updating courses, innovating new tools, and making enhancements…
As long as you maintain your membership your rates remain Locked IN.
Join Measurement Marketing Academy
Step-by-Step Lessons & Transcripts
Q&A Call Recordings with Instructor
Unlimited "Ask An Instructor" Support
Instant Access to ALL Current W.I.N. Kickstarter Packs & W.I.N. Courses
Special Invites to Live W.I.N. Courses
Private Members-Only "Winner's Circle" Community
No Contracts. No Long-Term Commitments
Get Measurement Marketing Academy
(Monthly)
Subscribe to
Measurement Marketing Academy Annual
BEST VALUE
Buy 6 Months, Get 6 Months FREE!
Step-by-Step Lessons & Transcripts
Q&A Call Recordings with Instructor
Unlimited "Ask An Instructor" Support
Instant Access to ALL Current W.I.N. Kickstarter Packs & W.I.N. Courses
Special Invites to Live W.I.N. Courses
Private Members-Only "Winner's Circle" Community
No Contracts. No Long-Term Commitments
Get Measurement Marketing Academy
(Annual)
Starter Edition

$97

Per Month

$41.38 per month, billed annually
Pro Edition

$

197

Per Month

$83.08 per month, billed annually
Teams Edition

$

497

Per Month

$249.75 per month, billed annually
Frequently Asked Questions