Google Analytics 4 is one of the best tools to help you grow your online business and make it a success. GA4 has plenty of handy features for tracking traffic to your website. We here at MeasurementMarketing.io know the value of planning before you build – and the "A.C.E." method is an excellent way to measure the results that make a business successful.
Our Lead Instructor and Looker Studio rock star, Julie Brade, recently covered the "A.C.E." method in one of our workshops.
Watch the workshop below or read on to learn more about how you can implement the "A.C.E." method within your business!
Understanding the "A.C.E" method
The "A.C.E." method is a great way to measure how users visit your website and what kind of mileage your business is getting from its current platforms.
The "A.C.E." method consists of three steps that dictate how users interact with your website: Awareness, Engagement, and Completion.
Let's take a deeper dive into each of these steps.
Lucid Chart screenshot: 9m 41s
Aware
The Aware step typically refers to users becoming aware of your business and what you're about.
This stage can take various forms for sites based on your kind of marketing or what platform you're on. An Aware step can be as simple as a user making it to your offer page or spending 10 seconds on the page.
Aware can also refer to an offer presented through other formats, like a video sales letter or an ad for your product within a video.
Engage
Engaging your audience is the most significant part of taking that next step to push a purchase or an opt-in.
You can also gauge engagement on your site in many ways. A user hitting the cart page is one of the most common examples of where a site could measure engagement. That 10-second timer could also be a way to gauge engagement for sites looking for users to opt-in.
Complete
Complete is your big success page – the one that shows you the customer has made a purchase or opted into your service.
The Complete stage will typically come in the form of a "Thank You" page, thanking your customers for making a purchase from your website or choosing your service.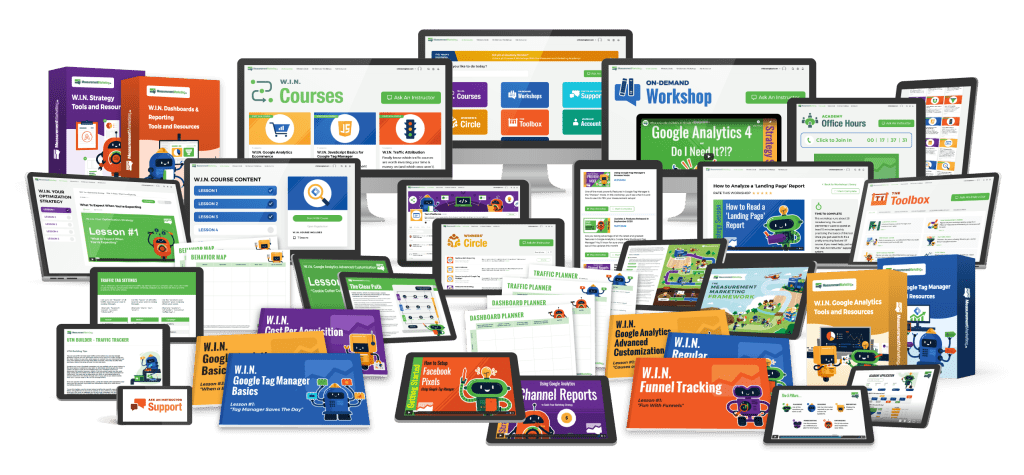 How to Apply "A.C.E." in Google Tag Manager
GA4 is your best friend for tracking your website metrics and learning how you can improve your business using the "A.C.E." method.
One of the best ways Google can do this is through Google Tag Manager. Using Tag Manager, setting up tags to let you know when your customers hit specific objectives or pages is quick and easy.
Pro Tip: Note these tips aren't exclusive to GA4; any software that lets you set up tags or signals for specific actions can make use of them!
Creating a Tag
Tag configuration, 11m18s
So, how do you make a tag in Google Tag Manager?
When using the A.C.E. method to track page visits in Tag Manager, create a GA4 tag with page_view tracking so you can monitor how many times users visit the pages you're looking for.
You should note that Google Tag Manager sorts tags alphabetically, so consider creating your pages with the product name first.
For MeasurementMarketing.io, we call our Aware tag "academy_aware," putting the academy first in the name, so all pages related to the Academy will be sorted together.
Trigger creation, 12m42s
Once you've created your tag, you have to set up a trigger.
The trigger is a way of telling Google Tag Manager how to know when the tag has met its condition.
So, for your Aware page, you could set the trigger as a user visiting your URL or staying on your page for 10 seconds. Engage and Complete tags can be set to have triggers on different pages like a cart or "thank you" page.
Using Google Analytics 4's "Events"
GA4 Events, 19m16s
Now that we've created our tags, how do we track them?
That's where GA4 comes into the equation. It has many ways to track how your business is doing.
GA4's Events section under the "Configure" tab lets you track your existing events and see how your site performs.
The A.C.E. method format we set up will allow you to track how your site's traffic is doing from the Aware to the Complete.
How to Set Up Your Goals in GA4
Google Analytics 4's Conversions setting is the primary way GA4 can track your site's success and how your different tags perform.
The Events tab shows the tags you've already created through Google Tag Manager and features a toggle-able option to set specific events as conversions.
You can use this to track specific events as conversions, allowing you to track changes and see how those changes contributed to your site's traffic.
Creating a New Conversion Event
Create a new conversion event, 24m3s
Creating a new conversion event to track recent changes is as simple as copying and pasting! To create a new conversion event, all you need to do is copy the name of the tag you want to track and paste it into the event name of your conversion event.
These are case-sensitive and space-sensitive, so correctly copying and pasting the tag's name is the easiest way to create an event.
With this method, you can start tracking events immediately without waiting for Google's usual holdover period for new data. This can be great for a new launch or rolling out a change to your website!
Getting Results With Google Analytics 4
Reports snapshot, 24m35s
Google Analytics 4 is an excellent tool for tracking your site's performance, but it can also show you how your website's traffic is performing!
GA4 tracks traffic acquisition and measures how different forms of media are performing to gain traffic to your website.
Traffic Acquisition
GA4's Traffic Acquisition tab is your one-stop shop to see how your marketing works.
Traffic acquisition helps you know how your different kinds of marketing work.
Did your recent email campaign cause a person to buy from that email? Did a VSL lead to more purchases? These are the kinds of questions Traffic Acquisition can answer.
GA4's New Session Source / Medium Tracking
Session source, 26m5s
One of the most valuable tools GA4 has added is "Session source/medium," allowing you to compare your different mediums for traffic sourcing in various categories.
This goes hand-in-hand with the events we made earlier, allowing you to track how many times each medium led to triggering different events.
You can use the conversions tracking to see how different forms of medium perform, allowing you to gear specific types of content towards other mediums.
For example, through YouTube videos, we can inform users of our site's particular services, like our Toolbox membership.
GA4's session source/medium can track how often your YouTube leads to hits on your Aware event.
Conversions can also show which mediums are more successful in leading to completions using the A.C.E. method. Maybe emails are a medium that works better for your business, getting more purchases or opt-ins.
GA4's Conversions can help you track what works for your business and build on that success.
Growing Your Business with GA4
GA4 has plenty more applications for building your business, and Google Tag Manager can be a great stepping stone to bigger and better things.
Using the event name structure we created today, the data you can aggregate by using tags and conversions can boost your data reporting capabilities.
The tools we built today can also help you on other platforms like Google Data Studio and other ad platforms.
Understanding different steps of the A.C.E. method can also help you gear your content better to your customers.
You can use this knowledge to understand how to get customers past awareness and into engagement or completion.
GA4 can give you that extra help to take your online business to the next level!
EXTRA RESOURCES:
Strategy to Google Analytics Measurement
The Measurement Marketing Framework
What is Google Analytics 4? Should you use it?
Your Site Has Traffic, BUT… Do You Know What's Working and What's Not?
If you want to learn more about how to maximize your potential with Google Analytics 4, Google Tag Manager, Looker studio and more, join the Academy for Marketers.