Have you ever stared at a sales funnel that's underperforming and thought:
Sales funnels can be difficult beasts to tame. They are the lifeblood of many online businesses but seem to be finicky and difficult to optimize. You may be tempted to shut it down, lick your wounds, and move on.
So how do you measure and improve your sales funnel?
Think Like a Doctor
Doctors have a defined process for diagnosing patients. When it's not followed correctly, it leads to malpractice suits due to misdiagnosis.
Look at your sales funnel like a doctor, analyzing symptoms and carefully examining the various parts to find where you can improve it.
Here at MeasurementMarketing.io, we've developed tried and true methods of analyzing funnels and figuring out where the problems lie. If your funnel isn't working, keep reading to find out how to diagnose the problem.
Step One – P.O.D. Analysis
Doctors start by learning about the patient. They look over the patient's history and ask about current symptoms. This is an essential information-gathering step. A wrong diagnosis often comes from the doctor not being thorough in understanding everything about the patient.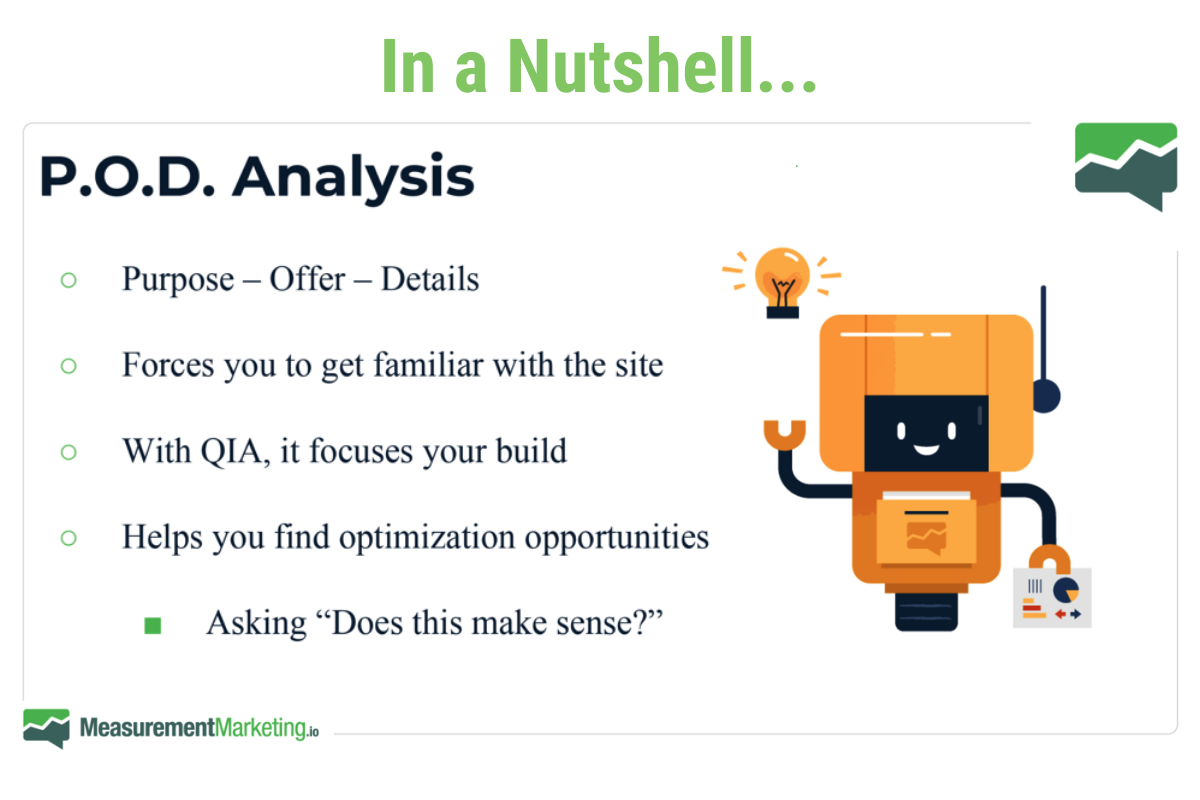 It's time to start at square one and review each stage of your funnel. Find the Purpose, Offer, and Details of each stage and decide if they make sense.
First step, define the purpose of the pages in your funnel. The purpose of the page is the reason for its existence. What role does the page have in the funnel? What goals are fired by this stage?
Some pages are there to get users to the next step. Some are a directory or content hub. Some pages have the purpose of getting a sale.
The next step is to review the offer on the page and see if it matches the purpose. The offer is the action you want your user to take that this stage of the funnel. Your offer could be a free e-book, followed by pages that offer small products for sale. Another offer could be for consulting services.
Finally, look for the details on the page that could help you improve your measurement. What behaviors could your users take, and how could you measure them? You can track when the user clicks a link or button. You can also see how many users scroll past a certain point on your page. Figure out how to know they've reached certain levels of understanding.
Step Two – Check User Expectations
Google has changed the landscape of doctor/patient relations. Patients type their symptoms into the search engine and start to self-diagnose. Doctors often lament that patients come into the office with pre-conceived ideas of the cause of their problem.
Unlike doctors, who often have to reverse the expectations of their patients ("No, you don't have appendicitis."), sales funnels have to match what your users are expecting.
Analyze your funnel to determine if there are any steps that seem out of place. Does your Facebook ad show a picture of a pair of jeans then lead to a page full of sweaters? Then your users will bounce because they wanted jeans.
It may sound obvious, but sales funnels can miss this mark in subtle ways. Every page in your funnel should pre-frame the user for the next page. Build your funnel as a set of steps that lead to a specific destination. Every step is important, but they all are moving toward the same goal.
Upsells can cause confusion when they don't match the original offer. If you sell recipes for baking cakes, don't then move on to an upsell to fix cars. It doesn't make sense. An upsell on the best pie recipes might be a better choice.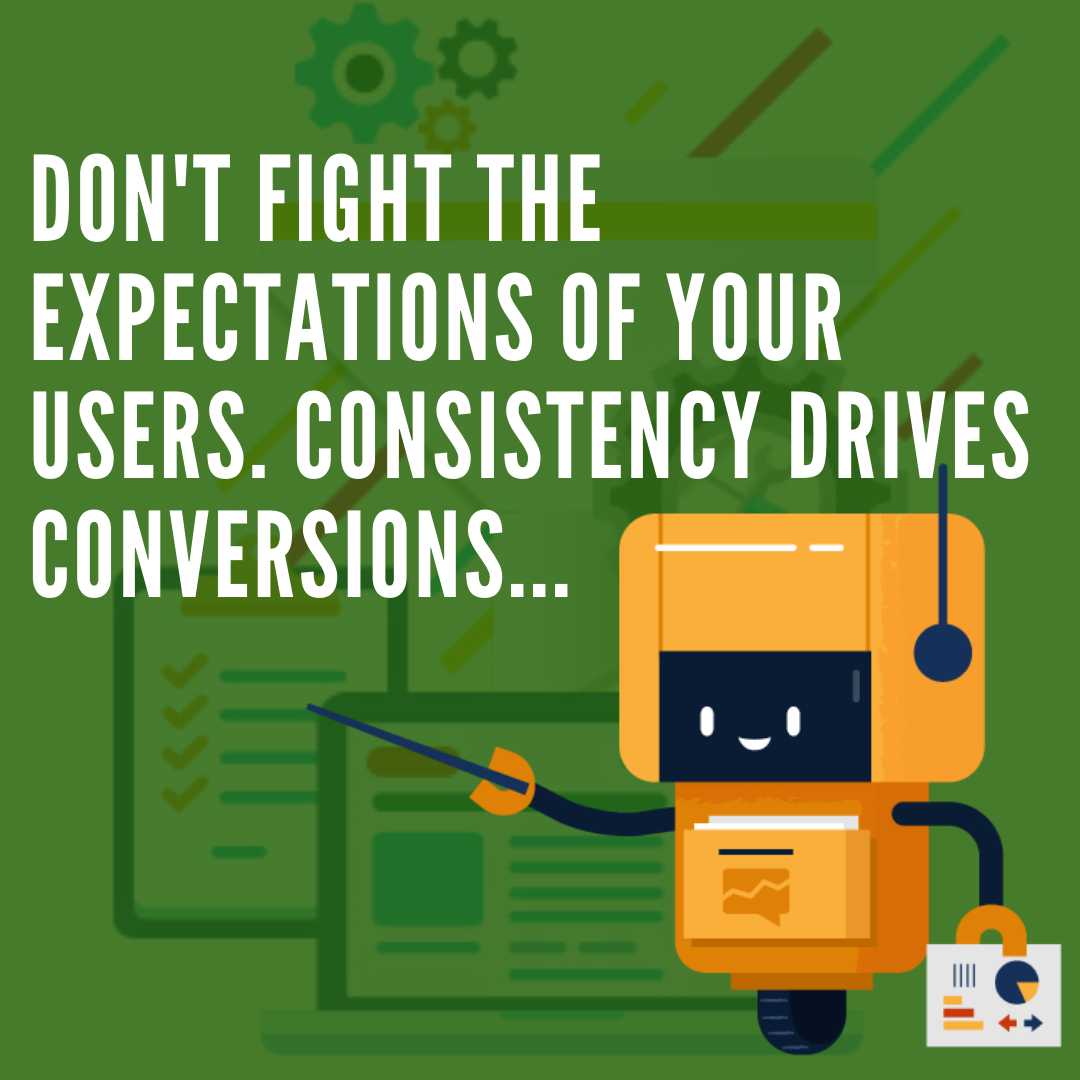 Step Three – Watch User Behavior Throughout the Funnel
A doctor may use the behavior of a patient to help diagnose a problem. Your recent trips outside the country, your eating and exercise habits, or your recent run-in with a flu-ridden child may help determine what ails you.
Sales funnels can be improved by watching the behavior of your users. Using Google Tag Manager to record key events makes diagnosing the problem much easier.
(Note: Need some help tracking how your ideal prospects behave on your funnel pages? Or maybe you need a more effective tool to give you actionable insights on how to craft a message that resonates with your audience? Get a copy of Marketing Behavior Toolkit as part of your FREE "Toolbox" membership)

Imagine a simple funnel that starts with an opt-in for a VSL or a recorded webinar and then presents a sales page with an upsell offer. Typically, when this type of funnel doesn't work, you're stuck guessing where the problem is.
Use Google Tag Manager to watch the user's behavior, and your ability to diagnose the issue increases ten-fold. Measure how long the user watches the VSL. Are they really engaged with your content if they don't watch what they opted in for in the first place?
Then watch their behavior on the sales page. How many users scroll down low enough to see the offer? If many don't, you may need to tweak the headline or introduction to the sales letter to better capture their attention.
If they scroll down to the offer but don't buy, the offer itself may be the issue. If they go to the cart but bounce back to the offer page, they may be going to the cart to check the price, not to buy.
All of this data informs the decisions you make. You're better able to diagnose and fix your sales funnel when you can "watch" what your users are doing inside of it.
The 5-Step Process That Prevents Sales Funnel Diseases
Doctors will tell you that regular exercise and a healthy diet will help to prevent disease. A common saying is, "An ounce of prevention beats a pound of cure."
There are five essential steps to preventing sales funnel problems before they begin. These steps will also set you up to diagnose problems much faster.
We call the five steps our Measurement Marketing Pillars. They serve as the foundation of measurement marketing.
Pillar One – Planning
Planning is the step most neglect when building sales funnels online. But diagnosing your sales funnel without having planned it thoroughly will be about as easy as a doctor whose never been to med school trying to diagnose your disease.
Use the Q.I.A. process to properly plan your funnel analytics.
Questions – What questions do you need to be answered by your analytics?
Information – What information do you need to answer those questions?
Action – What action will you take when you get the answers to your questions?
Unless a metric or measurement passes all of these tests, you shouldn't measure it…
A Mini-Case Study…

We had a client who wanted to measure which paragraph in a sales email was clicked by the user. We asked what action would they take if the report told them, for instance, that their users clicked paragraph three. They didn't have an answer. It was measurement for measurement's sake. The client saw that the "paragraph" metric wasn't useful, and thus, wasn't needed.
By focusing on the Q.I.A process, you'll make sure all of your data is useful when it comes time to make decisions.
Pillar Two – Building
Now comes the build phase. Once you know what questions you need to answer and what information you need, building out your reporting is much easier.
Tag external traffic with UTMs. Use Google Tag Manager to track your user's behavior. Build a dashboard that quickly answers the questions you raised in the planning phase.
Pillar Three – Reporting
Once your reporting is in place, you can start sending traffic to your funnel and watching what happens. Make sure all of your data is coming in cleanly.
You may have to tweak things here or there, but the foundation is solid. The planning helps make this phase easier, but it really accelerates the final two phases.
Pillar Four – Forecasting
This is where the power of the planning and building you've already done pays off. Too many marketers look backward to find answers. What did we do last week? Was that good?

Instead, use your knowledge and reporting power to forecast your expectations. You've seen from reporting what your conversion rates are. You can track how much you've spent on paid traffic and how much is hitting your site. You can forecast the number of impressions, visits, leads, and sales you expect in the next month.
Now you can measure against the forecast and adjust accordingly.
Pillar Five – Optimizing
Your analytics foundation is so good you can sit back and watch what is happening. Because you forecasted your numbers, you can see where in the process your funnel needs help.

Does your number of impressions match what you expected at a certain budget? Great. Did you get the number of leads you expected? Awesome. Wait, you didn't get the sales you were forecasting? Now you know where to focus.
You don't need to fix your ads or your opt-in. But your offer or sales page may need help. Dive into those pieces and look at user behavior. Go through the diagnosis steps above and find the issue. Then forecast again and watch what happens.
CONGRATULATIONS! You've Graduated Sales Funnel "Med School"
Now you can diagnose your sales funnel's sickness.
Many marketers plug Google Analytics code into their site and try to optimize right away. But following all of the measurement marketing pillar phases we covered will lead to an easier optimization down the road.
It's not unusual for sales funnels to falter from time to time. But that's no reason to waste your time guessing what the problem is while money is fleeing from your wallet.
Plan ahead. Pay attention to user behaviors. Forecast, then optimize. You may save your funnel's life.
And check out our Marketing Behavior Toolkit so you can build your skill in watching what your users are doing on your site.
(Note: Need some help tracking how your ideal prospects behave on your funnel pages? Or maybe you need a more effective tool to give you actionable insights on how to craft a message that resonates with your audience? Get a copy of Marketing Behavior Toolkit as part of your FREE "Toolbox" membership)