The Measurement Marketing Academy
Finally be in control of your numbers, transform your sales funnels, and make more money using the Measurement Marketing System
If you're an online business owner who wants to get better leads and bigger sales then you're probably already aware you HAVE to know who your customers are and how they found you, right?
After all, you could be spending a ton of money running ads without ever knowing which one actually brought paying customers…
or worse, find out later that it wasn't an ad at all, but random traffic coming from a Google search…
(that exact scenario has happened to me and the sinking feeling is almost enough to make you want to throw in the towel…)
How much could you save if you realized the ads you were running weren't working? 
That's just one example of how Measurement Marketing can help you plan your marketing strategy based on the information you can find with the simple tools I'll show you how to use. 
Read on to discover more examples of how you can change your business with Measurement Marketing.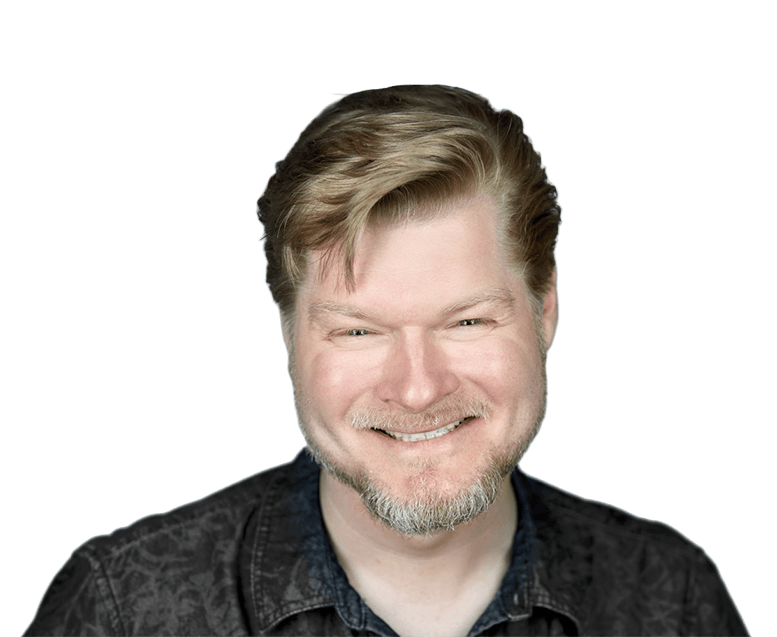 Co-Founder, MeasurementMarketing.io
What You Need To Do Today To Change Your Business Tomorrow – And Forever
KNOW WHERE EVERY SALE COMES FROM SO YOU CAN SELL MORE
Imagine asking every customer that comes into your online store how they heard about you…  And imagine knowing it was that one particular billboard or newspaper ad that brings them all in, ready to buy.  How much could you scale your advertising with just the answer to one question…
Now imagine asking each and every online customer which email, keyword, tweet or Adword made the most sales…
Once you set up and start using Google Analytics CORRECTLY you'll know the answers to those questions. 
In just 15 minutes you can start implementing a simple technique that will save you money and time tomorrow (literally, tomorrow).
ENGAGE AND CONVERT YOUR PROSPECTS AND LEADS ON EVERY PAGE
What will you do next week to increase engagement, build authority and move your visitors from lead to purchase? 
Change your headline?
Redesign your landing page?
Write another blog post?
Change the color of your "buy" button?
Add more testimonials?
You can't make something better until you know what's wrong with it. Stop guessing and KNOW exactly what you need to do to engage your prospects and make them buyers. 
START MARKETING BASED ON TRUTH AND DATA NOT GUT AND HOPE
Stop reacting to daily sales numbers, page views or email opens. Stop making decisions based on gut reaction, advice from a colleague or because everyone else is doing it.
Success starts when your plan includes knowing how, when and where to find real, actionable information and understanding how to make what you have even better.
The Measurement Marketing Academy changes how you think about marketing so you have a plan for what you should do next and are confident and ready to make the big swings that make the most difference. Every. Single. Day. 
Introducing:
The Measurement Marketing Academy
The Proven System That Changes
How You Think About Your Marketing
START WITH THE BASICS AND SEE INSTANT SUCCESS YOU CAN MEASURE 
Start with a big win! We'll guide you through the correct way to set up and use Google Analytics. In just a couple of hours you'll be able to to make small, but significant changes that give you instant success and the confidence to move forward.  
SERIOUSLY SIMPLE BUT FOCUSED INSTRUCTION
Data and numbers can be intimidating and playing with "google analytics" can be more than many marketers want to take on, but with The Measurement Marketing Academy you get simple, easy-to-follow direction in a screen-share-environment.  Watch, listen, learn, implement and ask all the questions you need.
MOVE QUICKLY FROM "HOW" TO "WHY" AND "WHAT NEXT" AS YOUR KNOWLEDGE GROWS
Learning how is one thing, but understanding why and what to do next is the key to the Measurement Marketing Academy.  You'll see how top marketers are using their new found gold mine of information to make real, meaningful changes. 
FOCUS ON THE PLAN AND PRIORITIZE THE DATA 
Every other marketing course you have seen shows you new tactics. Measurement Marketing is different. You learn which new tactic works best for your niche, your business and your customers. Sure, growth can happen to anyone, but building a long term, sustainable business starts with knowing what is working now and how you can make it better.
Get Started Today With Instant Access to More Than 80 Video Workshops:
Only $79 Per Month
Members Are Using The Measurement Marketing System To Improve Their Businesses
"Knowing your numbers is the key to scaling business quickly. With technology moving at a rapid pace it's now more important than ever before to track all your data and know how to read it… so you can make decisions quickly. The guy I go to for all my analytics training is Chris Mercer. I highly recommend you buy everything he has right away. Learn it, apply it and watch your business grow… you'll thank me!"
Chris Koehl
I think the Measurement Marketing Academy is the missing link for every marketer. Since becoming a member I feel I have so much more data to make decisions that help me become a better marketer.
Before I made my decision more on gut feeling and how much engagement I could note. Now, I have a tool and make my decisions based on data,
not on gut.
Melanie Summer
Become a Member Of:
The Measurement Marketing Academy
This one-of-a-kind program includes the following:
Expert instructors lead you step-by-step in a screen sharing "over-the-shoulder" video workshop. You'll see how to complete the topic and how other marketers use the information to save money, increase leads and sales and raise ROI.
Our unparalleled triple-level support gives you feedback at every turn. Get quick response answers to your questions – often including screenshots and video feedback. PLUS join live Q/A Calls in a screen share environment.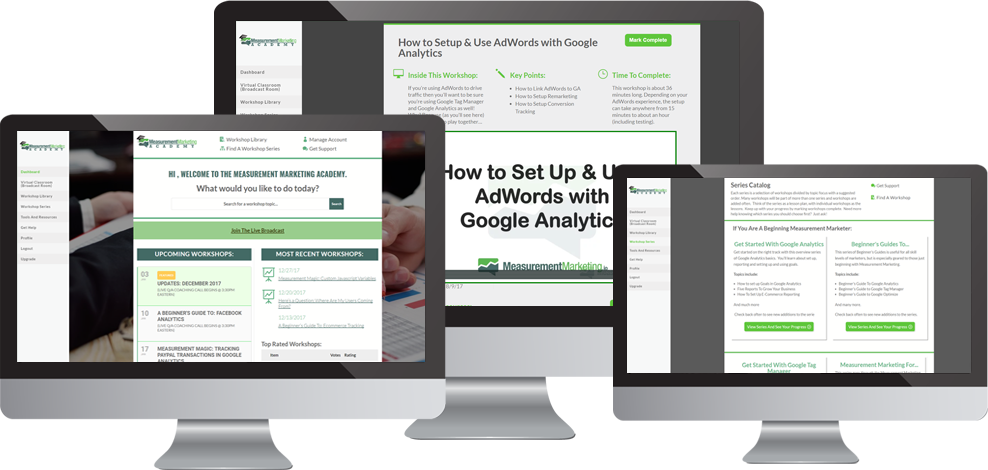 Get Started Today With Instant Access to More Than 80 Video Workshops:
Only $79 Per Month
Multiple ways to access workshops – choose the lesson plan style series of topics that will help you master certain skills or use the workshop library to enhance your learning or give you insights when you need them. 
Each workshop gives you quick access to additional resources used you may need to master the lesson, including spreadsheets, blog posts, videos, workbooks, extensions and more bonuses you can keep forever. 
SOME OF WHAT YOU'LL LEARN IN THE MEASUREMENT MARKETING ACADEMY
Not A One-Size-Fits-All Curriculum.  Learn To Use And Master Data Tools Based On Your Needs And Skill Level
Step-by-step, detailed, workshops guide you through every screen of google analytics so there's no question about how you should set-up your analytics account (or how you should change your current set up to gain more accurate information)
Learn why and how Google Tag Manager can open doors to information crucial to understanding your customers. Explore at your own pace, through detailed instruction with lessons based on current
technical level. 
See where to find and how to use both simple and advanced reports that matter most to your business and get insight into how other marketers are using the information to attract and convert more customers.
Finally learn how data and marketing work hand-in-hand. Understand how to track your website visitors, know who they are and where they came from and measure their engagement so you can find and convert more of them into buyers and leads.
Strategies and tools for implementing ad campaigns with confidence. Understand how to set-up and use GTM and GA to get insights about your traffic, retarget your visitors, and scale back your spending when things aren't working right. (know when things aren't working right!)  
Know how other business owners and marketers are using data for your specific niche – direct response, e-commerce, bloggers, brick & mortar businesses or affiliate sales.
Understand how and when to use tools such as Google Data Studio and Google Optimize. Connect these and other data tools to your analytics account to get more detailed information.
Live workshops show the latest and greatest methods, re-emphasizes important strategies or share important updates. (when Google changes what or how they do something, we will break it down so you don't have to figure it out
on your own.
What's Inside The
Measurement Marketing Academy
Finally be in control of your numbers, transform your sales funnels, and make more money
More than 80, step-by-step, detailed, screen-sharing workshop videos divided by topic, skill level, and marketing goal.  

A traffic tracking method that works instantly – giving you immediate insights and will save you money on your next ad campaign and make a huge difference in your ROI.

Workshops geared for complete beginners and others for advanced marketers looking for more specific and detailed strategies.

"Ask The Expert" Support that is unparalleled in scope.  Ask any question of our in-the-trenches team and get a detailed response.  Not just links to a knowledge base article,  you'll get real answers in a real conversation.

Live workshops to teach new features, tricks, and strategies.

Live, weekly, Q/A Group Chat with other members and our team so we can screen share and walk you through any issue you have.  It's group coaching…and if you need more support afterward we are here to continue helping.

A support community of pro marketers you can call on to discuss your numbers, gain insight from their experiences or advice on set up or implementation of new material. (don't worry, we are always around to ensure you get the most accurate info.)

More than 100 resources, tools, explanations, links, spreadsheets,  workbooks, plugins, extensions and more bonuses you can access anytime!

30-Day no-questions-asked guarantee – Cancel your monthly membership. Go through the workshops, implement new ideas and join us for a coaching call and ask all the questions you need. If you aren't happy within 30 days we'll give you your money back, no questions asked.
Get Started Today With Instant Access to More Than 80 Video Workshops:
Only $79 Per Month
If you feel overwhelmed with Google Analytics and Google Tag Manager, I highly, highly, HIGHLY recommend you to subscribe at Measurement Marketing Academy because Chris Mercer (the founder and the instructor) is an EXCELLENT TEACHER who will not only explain, but he will show you EVERYTHING about GA and GTM in a step by step manner.
His program is so comprehensive and has tons of resources to help you become a DATA-DRIVEN DIGITAL MARKETER.
Plus, you also get personal help by using the chat support and a private Facebook group so you won't get lost and confused along the way.
Overall, joining Chris and Measurement Marketing is an investment IF you are serious about improving your online marketing performance for your client or your own business. 100% GUARANTEED!"
Neal Ednacot
Get Started Today With Instant Access to More Than 80 Video Workshops:
Only $79 Per Month
"[The] Measurement Marketing Academy Membership is an amazing resource if you want to be a the top of your game when it comes to Analytics and Google Tag Manager.
Hot topics and solutions to issues are discussed as well as learning about latest and greatest features. Highly recommended."
Darren Craig
WHEN I HAVE AN ADVANCED ISSUE WITH GOOGLE ANALYTICS — I CALL MERCER…
He just flat out knows his stuff when it comes to conversion rate optimization and analytics.
Russ Hennebery