Z YES! I'm ready to STOP making blind decisions that are based only on gut and I want to have a complete step-by-step system to measure my client's business.
Give me a seat at the next Measurement Marketing Certification program so I can be 100% confident in offering Measurement Marketing as a service.
Here's What You're Getting:
Private access to the live Measurement Marketing Certification training classes.  Classes start May 7th and are every Monday at 11AM Eastern for 8 weeks.
The ONLY training on the planet that will give you the ability to discover what's really going on in your (and your clients) company so that you can easily make wise and intelligent business decisions based on what the market is telling you.
In just 13 short weeks you're going to:
Discover a Complete System to Measure and Improve Your Marketing.
The same system we use in our company to collect relevant information to make better marketing decisions.
Have Confidence with Your Numbers.
No more GUESSING! You will know exactly what to measure, what's important, and what to overlook so you can avoid making bad decisions.
IMPORTANT: You don't have to be a numbers person to be confident with your figures. All you need to know is the meaning of the numbers and why do they matter. You'll learn how inside this program.
Discover How To Build a Powerful Analytics Dashboard.
This is where you can easily pinpoint where the leaks are in your funnels so you can easily plug them before they have a chance to hurt sales.
Be Able to Analyze Marketing Performance and Answer Tough Business Questions.
Questions like…
Which traffic source is getting us more leads?
Why aren't we converting leads into customers?
Why does our latest advertising work?
And…
How can we repeat our success and minimize our failures?
Hunches, intuition, and "gut feel" cannot give certain answers to those kinds of questions.
But as a Certified Measurement Marketer you'll have the ability to get facts and figures that will give you answers you can actually use!
Discover How to Turn Valuable Information into Simple Presentation.
Yes, when you're certified, it will be easy for you to find and understand all the figures in your dashboard.
But…
For most of your clients, it won't.
That's why having the skill to create informative reports that are easy to read, easy to understand, and easy to customize will certainly put you ahead of your competition.
Discover How to Uncover Hidden Treasures In Your Client's Business.
Being able to recognize huge opportunities hidden in the numbers is a huge plus for your "analytics-as-a-service" business.
When you can add more dollars in your client's bank account, there's no doubt that you're in a position to charge a premium for your service.
Also, as a Certified Measurement Marketer, you'll be able to…
Forecast Results and Optimize Marketing Performance.
Once you figure out what's working in your funnels and you have the numbers to back it up, you can start to replicate your success.
On the other hand…
If you see your numbers and you don't like your results, then you can start to fix the problem and make adjustments to improve your performance.
How valuable is that? Knowing the next steps will saves you both time and effort!
Get Access to Live Weekly Q&A.
Every week, you'll get high-touch, personal support, from one of the most respected Measurement Marketers, Chris "Mercer" Mercer.
You'll get together to brainstorm and answer any questions you may have about Measurement Marketing and you'll go dive deep into anything you need to successfully measure and improve effectiveness.
One-on-One, Personal Support and Feedback.
Obviously, this is only for serious people who want to take their analytics skills to the next level. But that doesn't mean you're not going to have fun.
As you move along through each module, you'll get "hands on" experience with weekly homework assignments to ensure that you are moving forward and earn the skills of a Certified Measurement Marketer.
You'll also get a dedicated group and plenty of hand holding to make sure you get all the support you need.
Get a Certificate That You Can Show Off.
Get a badge you can put on your website, Facebook page, or LinkedIn account to show your expertise. Proudly display your professional certificate in your office to let the world know that you have a high-demand skill set that adds value to your clients.
And finally…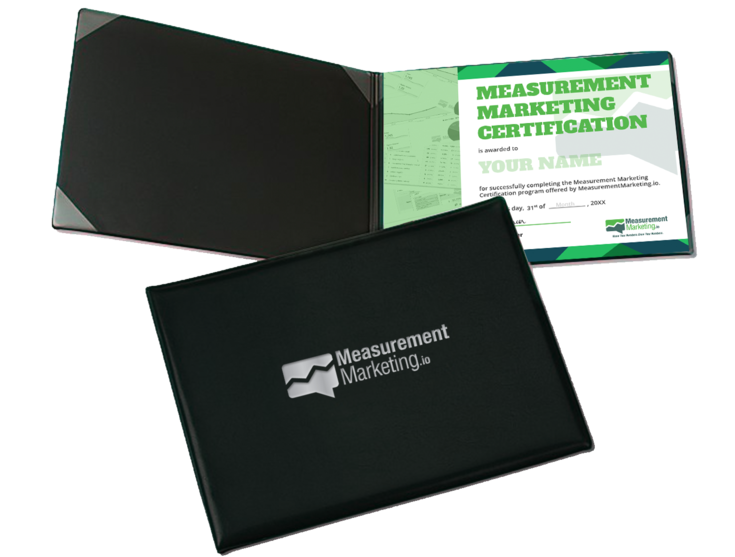 Get a Step-by-Step Guide to Find New Clients.
Earning your certification is one thing, finding clients is another.
Of course, we won't leave you hanging.
You'll learn the same step-by-step system that we use ourselves, so you can find clients for your new Certified Measurement Marketer skills.
PLUS, from time to time, we've been known to refer business to Certified Measurement Marketers to help us keep up with demand.
Now for the fast movers out there, if you act now, you also get…
The Measurement Marketing Certification Fast Action Bonus
BONUS 1: FREE One Year Access to Measurement Marketing Academy (Value $1,200+)
Get access to 100+ simple, easy-to-follow, virtual workshops about all the tools you need to improve your conversions by 10%, 20% or even 50%.
Multi-tiered level of support where you can get relevant answers to your questions based on your current situation.
Get the latest tips, tricks and information about your favorite measurement tools like Google Analytics, Google Tag Manager, Google Data Studio and many more with our ongoing video updates.
BONUS 2: FREE Access to Certfied Measurement Marketing Mastermind Group (Value $10,000)
This is where you'll work with a brilliant group of Measurement Marketing experts… who will quickly help you identify… and then solve the challenges that are holding you back.

It's main purpose is to maximize your result and solve everything that's holding you back.

Just imagine how mind-blowing how much you will accomplish if you know what's going to be your next step.
BONUS 3: 50% Discount On Your Enrollment (Up to $5000 Value)
Since we consider you as one of the founding members of Certified Measurement Marketers, we want to give you a HUGE DISCOUNT.

That's why today, you can be certified by only investing half the price of this program.

And you don't have to worry because…
You are protected with your 30 day Money Back Guarantee!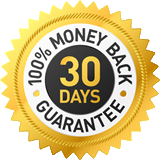 You have a full 30 days to attend classes, review Q&A sessions, do the homework, and apply the skills. If you fully participate, including the homework, and still feel that being a Certified Measurement Marketer isn't for you then just let us know so we can process your refund.  
Note: The first class (May 7th) counts as day 1, not the day you purchase.
But you have to HURRY because this is strictly limited to 15 Students only
When do classes start? What's covered?
Classes start May 7th and are held every Monday at 11AM Eastern for 8 weeks.  You then enter an intensive 5-week testing period so you can demonstrate your new skills and earn your certfication. 
Classes cover everything you'll need to start, expand, or offer Measurement Marketing as a service. You'll not only get all the analytics "know how" (planning, building, reporting, forecasting, and optimizing your measurement marketing) you'll also learn how to sell and manage clients.
During the entire 13 week period, there is a weekly Q&A call every Friday at 1PM Eastern.  While these are optional, they are highly recommened as you'll learn just as much from these calls as you do from the classes!
What if I can't make it to the live trainings or Q&A calls?
That's OK! All of the trainings and Q&A calls are recorded for you to watch and listen at your own pace. Your certification won't be earned by watching live trainings… it's earned by doing the work and by communicating with your instructor.
How long is my Certification good for?
Your Measurement Marketing Certfication is good for 1 year.  In order to remain active you will need to renew the certfiicate by taking test to be sure you have all the latest skills necessary to take care of your clients and earn our recommendation. 
How will I be able to market this certification to get new clients?
No worries, as mentioned above, you will also discover how to sell your new skill set as a Certified Measurement Marketer so you can get the clients you want. In fact, there is now a referral program for the Certified Measurement Marketers to keep up with the demand.
How much can I expect to be able to charge a client once I am a Certified Measurement Marketer?
Obviously, there is no way to guarantee what you are able to earn. However, we've seen projects start at the low end of $1,000 and other projects go to the high end of $25,000 for a more extensive set up.  Some Certfied Measurement Marketers work on a monthly retainer model.
Of course, there is no guarantee this will happen for you. Your success depends on you and the actions you take.
Fortunately, with your certification in hand you'll at least have the tools you need to earn what your worth!
I am heavy in social media marketing. Will this certification help with that?
Absolutely! As a Certified Measurement Marketer, you know the best ways to track traffic so you can connect your efforts with actual revenue. No more guessing and trying to connect the dots.
Not to mention, you'll be using tools like Google Tag Manager to help make adding tracking pixels so much easier!
I'm not a developer or a person that understands code. Will I be able to keep up and get certified?
Great news! No coding skills required to get started! PLUS, just like in learning the lyrics of a new song, you will naturally pick up some basic coding skills the more time you spend with it.
Of course, if you already do have a coding background, it will help you catch on faster.
Finally, if you're unwilling to learn at least the basics of Javascript, then this certification isn't for you.
What if I find out this isn't for me? Can I get a refund?
Yes you can.  Classes start May 7th and you have a full 30 days from then, to attend classes, review Q&A sessions, do the homework, and apply the skills. If you fully participate, including the homework, and still feel that being a Certified Measurement Marketer isn't for you then just let us know so we can process your refund.
Can I wait until the next session to become a Certified Measurement Marketer?
You certainely could. However, you will miss out on the up to 50% off discount that's currently available. The demand for this skill set is high and will only grow. The sooner you start, the more money you save, and the more money you can begin to potentially earn.
What happens after I get certified?
All active Certfified Measurement Marketers get access to the Certified Measurement Marketing Mastermind group.  This dedicated Slack channel is exclusively for actively Certified Measurement Marketers so you can stay up to date on the latest tools and bounce ideas off of each other.
PLUS, you will also be a part of the soon to be released, Certified Measurement Marketer Directory so prospective clients can easily find you.
What if I am already an Academy member? What happens to my membership?
Your Measurement Marketing Certification comes with 1 year of the Measurement Marketing Academy.
If you are a current Academy member, you will have your membership paused for a year so you can enjoy your complimentary access. After that year your membership will resume at the same rate it was before it was paused.
This way you're protected from any future rate increases.
What if I have a question not listed here?
Just email Mercer!  "mercer@measurementmarketing.io" He'll personally answer whatever question you have.
HURRY this is strictly limited to 15 Students only
What Are Past Students Saying?
The biggest benefit I've gotten from taking this class is my confidence in working with GA, GTM, GDS and GS. Then learning how to make all of these work together to create a complete measurement marketing system. This allows me now to accelerate my skills and help my clients crush it with their projects. Chris Koehl
Now I realised the biggest benefit was learning not only the theoretical side of GTM/GA, but the practical side of the day to day business and the strategy.
The small by close community of ours is a great plus, I didn't expect it at all and now it's the second best benefit I got from this program. Now I (and other CMMs) have the confidence to reasonably say yes to a project knowing that if there are challenges along the way,
And the final benefit which was also surprising was the fact that you actually sent me leads to speak to! Which I really appreciate. Ahmad Kanani, Siavak
I liked the weekly meetings/ recordings and the access to the membership site. Really loved it that Mercer put in so much time and also was happy to meet one on one. Melanie Summer
HURRY this is strictly limited to 15 Students only
Copyright 2018 MeasurementMarketing.io